Team Australia will fight for gold, they beat Colobians 5-2
16.07.2010 | Lucie Muzikova
Team Australia was the favorte of this game and their players proved it for the very first moments. Even that Colombians were leading for few seconds, after the game Australians happier and they are looking for the final-game against Team Spain.
Game 7 • wSF • Fr 16.7.2010 • 10:00 • Schedule and results
Colombia
2:5
Australia
(1:1, 1:4, 0:0)
Cuervo (Guerrero) - Higuera, Fierro, Mira, Trivino, Duran, Rosero, Escobar, Ariza, Murillo, Olarte, Hernandez, Agrila
Smart (MacLou) - Collins, Bergamin, Adams, Haynes, Hayres, Belic, Dunstan, Best, Brophy, Smith
Goals and assists: 10. Collins (Hayres), 29. Dunstan (Belic), 30. Collins (Hayres), 36. Dunstan (Belic), 38. Dunstan (Collins) - 18. Murillo (Duran), 28. Ariza (Fierro)
Penalties: 4:2. PP goals: 1:0. SH goals: 0:0.
Referees: Miller, Grandini . Audience: 50.
Official game sheet (PDF) video
Report
Australian team from the very first second proved that their players were favorites of this game. After few good chances to score the first goal reached Anthony Collins, who converted mess in front of Cuervo´s net. The goal in Colombian net worked. Team Columbia woke up, their players started to play more acitv but unfortunately also more agressive. The result of this was tying goal scored Jesuse Murilla. At this time it looked like Australian couldn´t stop Colombian big enter to the game.
After halftime, both teams entered the second half with strong motivation and big pep. And Colombians could celebrate again. Power play was converted by Smart. But a kangaroo on the flag above the Australian bank ordered to fight. Australians answered immediately with two goals thanks to Dunstan and Collins. In 36th minute Higuera queezed his shot between two defenders and the puck slightly touches the right Australian post. If you don´t score, the opponent does. After 20 seconds Dean Dunstan, the best player in Australian team, scored his 2nd goal in this game. 2 minutes to go the same men reached hat-trick after perfect pass from Collins. Team Australia won this game and they can look forwarf to the final-game of World Cup.
"It was a hard game. We could be an equal opponent for long but we conceded two quick goals in the 2nd half and we couldn´t come back into the game. Now, we have to rest and get ready for the last game tomorrow," says Andreas Cuervo, Colombian goalie, after the game.
Author: Lucie Muzikova
Comments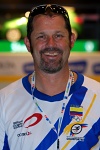 Stéphane Marcoux (Team Colombia coach): This game was really hard. We played great 1st half, who finished 1-1. After the halftime we even could reach the leading but we couldn´t controll the game and we conceded two quick goals. However, we could win today. We have to get ready for the next game.
David Haynes (Team Australia coach): We are really gald. First 10 minutes were balanced then we reached the first goal. We knew that Colombians wouldn´t give up and they would fight for the next 30 minutes. For few moments they didn´t let us near the puck, they scored twice. But we still worked hard and finally we won.
10.8. |
Do you like to bet on the game that is already in play? The betting office Bet365 has the biggest offer of live bets on the internet! Find out yourself.
The best informations about Bwin.comall in one place.
Enter the world of the quickly growing family of the company Bet-at-home and experience the joy of winning right from the comfort of your own house.
Rich offer of betting opportunities and attractive odds – that is DOXXbet.
18.7. | Closing ceremony
We have added some photos from the medal and closing ceremony.
17.7. | All Stars team
Michael Urbano (USA) - Julien Walker (SUI), Karel Rachunek (CZE), Travis Fudge (USA), Brian Baxter (MEX).
17.7. | Individual awards
MVP: Travis Fudge (USA), Best goalkeeper: Michael Urbano (USA), Best defender: Karel Rachunek (CZE), Best forward: Diego Schwarzenbach (SUI), Fair play award: Team Spain.
» Archive