A great game! And the Czechs are champions!
08.07.2010 | David Schlegel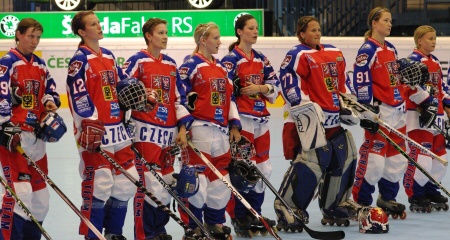 The Czech Republic suffered a loss to Canada in Round Robin but in the finals they could beat their rivals 3:1. And that is what counts in the end. The Czech girls won the gold for the 2nd time, they reached the 1st gold in Düsseldorf two years ago. The key player of the finals was Katerina Mrazova who scored two goals and added an assist.
Game 6 • F • Th 8.7.2010 • 19:00 • Schedule and results
Czech Republic
3:1
Canada
(2:1, 1:0, 0:0)
Smardova (Mateju) - Fialova, Holesova, Studentova, Knotkova, Zelenkova, Mrazova, Polenska, Pancakova, Flachsova, Heindlova, Melicherikova, Novakova, Stastna, Vonkova.
Fisher (Squire) - Clasrke, Devereaux, Grigg, Jarell, Ludolph, Merante, Nanji, Shirley, Sorbara.
Goals and assists: 11. Mrazova (Flachsova), 15. Mrazova (Polenska), 30. Fialovs (Mrazova) - 15. Jarrell (Nanji)
Penalties: 1:4. PP goals: 1:1. SH goals: 1:0.
Referees: Kirschnerová, Gloorová.
Official game sheet (PDF) video
Report
A frenetic crowd, the best in the tournament, greated both teams before the game and encouraged the players to show their best performance in a whole week. The Czech team entered the game better, they fired several shots at Fisher and Canadian goalie had to show her best. In the 11th minute Katerina Mrazova made two spectacular moves in their offensive zone and with a backhand move beat also Fisher. Four minutes later Mrazova added another Czech goal. She beat Fisher on a breakaway while shorthanded. 15 seconds later Jackie Jarrell got Canada withhin one goal.
At the start of 2nd half, the Czech players outplayed their opponent and earned a power play. Fisher had a lot of work to keep Canadian chances alive. Mainly Mrazova was very dangerous. It was supposed to be Canada which should play offensively, but they were under the Czech pressure. In the 30th minute Andrea Fialova rebounded a shot taken by Mrazova and Czech regained a two-goal lead again. Team Canada put in all the offensive skills left but Ludolph draw an unnecessary penalty and that was it. Team Canada tried to play with an empty net but they created no scoring chance. The Czech Republic won its 2nd gold medal in history and the celebration could started.
Author: David Schlegel
Comments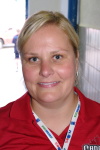 Donna Forbes (Team Canada coach): Czech Republic played a great game, they had a lot more on their roster with fourteen skaters and our girls just ran out of gas. They have given all they´ve got, but that´s what happens when you have nine players versus fourteen. We are very proud to be bringing silver back home, although it is not a color we have necessarily wanted.
10.8. |
Do you like to bet on the game that is already in play? The betting office Bet365 has the biggest offer of live bets on the internet! Find out yourself.
The best informations about Bwin.comall in one place.
Enter the world of the quickly growing family of the company Bet-at-home and experience the joy of winning right from the comfort of your own house.
Rich offer of betting opportunities and attractive odds – that is DOXXbet.
18.7. | Closing ceremony
We have added some photos from the medal and closing ceremony.
17.7. | All Stars team
Michael Urbano (USA) - Julien Walker (SUI), Karel Rachunek (CZE), Travis Fudge (USA), Brian Baxter (MEX).
17.7. | Individual awards
MVP: Travis Fudge (USA), Best goalkeeper: Michael Urbano (USA), Best defender: Karel Rachunek (CZE), Best forward: Diego Schwarzenbach (SUI), Fair play award: Team Spain.
» Archive