Team Finland got 7th place after a victory against Team China
08.07.2010 | Lucie Muzikova
Team China didn´t win not even in their 6th performance in this tournament and Team Finland beat them for the second time, this time 5:1. The final result is, that Team Finland took the 7th place, Tam China the 8th place.
Game 6 • p-7 • Th 8.7.2010 • 13:00 • Schedule and results
China
1:5
Finland
(0:4, 1:1, 0:0)
Gao (Wu) - Qian, Lin, Ye, Zang, Li, Liang S., Ding, Mo, Liang Y., Yue.
Vanhatalo (Koivisto) - Tuominen, Ahvnesalmi, Makela, Jokipelto, Lind, Tuira, Heiskanen, Kantee.
Goals and assists: 4. Tuominen (Lind), 7. Makela (Jokipelto), 12. Tuominen, 18. Heiskanen (Makela), 30. Mo Fei, 30. Ahvensalmio (Makela).
Penalties: 0:2. PP goals: 0:0. SH goals: 0:2.
Referees: Kirschner, Gloor.
Official game sheet (PDF) video
Report
Team China began this game more active than in their prevous games and they tried to combinate on Finnish half. In the 2nd minute they got a chance to play power play but they couldn´t find a way to shot. After one unsuccessful opportunity Finnish shooter Tuominen got a chance to score and, as she showed all the tournament, she didn´t miss. After few moments players of Team Suomi celebrated again. Vera Mäkelä scored very easily and she brought her team to the two-goals leading. The scored switched in then 11th minute again and because of nobady else than Minttu Tuominen who moved to the second place in the scoring table by this success. 4 minutes to go Chinese players were delivered after disaster by the upperbar.But after two minutes Mila Heiskanen scored the 4th Finnish goal.
"We followed adviced from our coach and we played very well. We made up a lot of opportunities and this was a pitty that we couldn´t score more goals," says Fei Mo after the game.
The second half continued with no-good looking game and even the score wasn´t change. Finnish players adapted their game to the Chinese tempo and even Finnish trio Tuominen-Jokipelz-Mäkelä, who made most of chances in this game, found a way to score with no effect. For few moments Chinese players tried to overcame the half but any of attempts of Mo Fei did no mess. But she waited to score and she did it! Finnish players jiggered up on their own half and that was time of Mo! Finnish performance in this tournament was closed by Ahvensalmi who socred to final 4:1 for Team Finland.
Author: Lucie Muzikova
Comments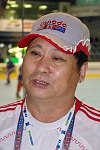 Xingzhi Wang (Team China coach):
I am very satisfied with the final result. In the last hame against Finnish girls we lost 1:12 and today only 1:5. We played very good game. We made a big step forward in this tournament.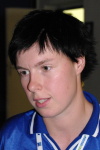 Anna Perttilä (Team Finland coach): It was pur last game in this tournament and I am glad that we closed our performance here with victory. But we can´t be satisfied with the final 7th place. We wanted to play in-line hockey as French do but went badly. We have to prepare better ourselves to the next tournament.
10.8. |
Do you like to bet on the game that is already in play? The betting office Bet365 has the biggest offer of live bets on the internet! Find out yourself.
The best informations about Bwin.comall in one place.
Enter the world of the quickly growing family of the company Bet-at-home and experience the joy of winning right from the comfort of your own house.
Rich offer of betting opportunities and attractive odds – that is DOXXbet.
18.7. | Closing ceremony
We have added some photos from the medal and closing ceremony.
17.7. | All Stars team
Michael Urbano (USA) - Julien Walker (SUI), Karel Rachunek (CZE), Travis Fudge (USA), Brian Baxter (MEX).
17.7. | Individual awards
MVP: Travis Fudge (USA), Best goalkeeper: Michael Urbano (USA), Best defender: Karel Rachunek (CZE), Best forward: Diego Schwarzenbach (SUI), Fair play award: Team Spain.
» Archive