Team China failed in powerplays and lost heavily again
07.07.2010 | Tomas Pavlicek
In the first game of day Team Spain swept chinese players with the result 8:1. Asians in the beginning defensed great and in addition they scored once. But closely before the end of first half they did not manage their poweplays and allowed two goals, it was turning point of the game. Tommorow Team Spain is going to play for fifth place, Team China for seventh.
Game 5 • p-5 • We 7.7.2010 • 13:00 • Schedule and results
China
1:8
Spain
(1:4, 0:4, 0:0)
Gao (21. Wu) - Qian, Lin, Ye, Zhang, Li, Liang S., Ding, Mo, Liang Y., Yue.
Alvarado (21. Martinez V.) - Martinez I., Beltran M., Beltran A., Castollo, Calero, Ucedo, Abrisquetao V., Abrisqueta L., Cassi, Ortuno, Pla, Alvarado, Rodriguez, Gonzalez.
Goals and assists: 12. Mo (Zhang) - 3. Cassi (Abrisqueta V.), 8. Casstollo (Martinez I.), 19. Beltran M. (Martinez I.), 20. Beltran M., 25. Ortuno (Pla), 31. Martinez I. (Calero), 33. Abrisqueta V., 35. Cassi (Calero).
Penalties: 2:2. PP goals: 0:1. SH goals: 0:2.
Referees: Anderson, Kirschner.
Official game sheet (PDF) video
Report
The Spanish players, from the beginning, reigned the game and in the 3rd minute Gao looked for the puck behind her back. Jana Cassi moved in front of the goal and scored with a quick wrist shot. It seemed that the Asians have not got enough power. They did not repeat a good performance from the quarterfinal against Team USA. "One of our reasons was really fatigue, therefore, it was not so perfect today," confirmed Mo Fei. "We are not satisfied with the result, but we scored again so we filled one of our aims at least," added scoring leader of Team China.
The second goal was scored in 8th on powerplay by Marta Castollová. Xiaolin Ding could answer quickly, but from the good spot she missed. Nevertheless, players in the white jerseys improved their game and few seconds after they reduced the goal difference. Zhang sent the puck into the goal crease, Mo Fei put her stick into the shot and the puck headed between Alvarado´s pads. The interesting game continued. Spanish players waited for other goals to Chinese powerplay, when Marlen Beltránová scored twice and got her team a good margin after first half.
The second period was started by Spanish pressure again. Ortuno in 25th minute netted the fifth goal from a rebound. Then Team China collapsed and Ingrid Martinez with Vanesa Abrisqueta added two goals. The winner was absolutely sure in this moment and Jana Cassi modified the final score to 8:1. So tommorow, Europeans will fight for fifth place and they would like to succeed again "We are looking forward to the next game. We are glad that we scored a lot and I think that we performed with a good game, although we had to play a little different style of hockey," said Marta Castollo after the win.
Author: Tomas Pavlicek
Comments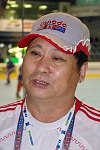 Xingzhi Wang (Team China coach):
"Spanish team played very well and we tried our best. We scored one goal and we longed for that".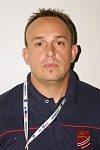 Sylvain Humeau (Team Spain coach): It was tough game, mainly in the beggining. After ten minutes the score was only 2:1 and we little got flurried. I hope, that tommorow we will win and earn fifth position.
10.8. |
Do you like to bet on the game that is already in play? The betting office Bet365 has the biggest offer of live bets on the internet! Find out yourself.
The best informations about Bwin.comall in one place.
Enter the world of the quickly growing family of the company Bet-at-home and experience the joy of winning right from the comfort of your own house.
Rich offer of betting opportunities and attractive odds – that is DOXXbet.
18.7. | Closing ceremony
We have added some photos from the medal and closing ceremony.
17.7. | All Stars team
Michael Urbano (USA) - Julien Walker (SUI), Karel Rachunek (CZE), Travis Fudge (USA), Brian Baxter (MEX).
17.7. | Individual awards
MVP: Travis Fudge (USA), Best goalkeeper: Michael Urbano (USA), Best defender: Karel Rachunek (CZE), Best forward: Diego Schwarzenbach (SUI), Fair play award: Team Spain.
» Archive