The big drama finished as Canadian victory
07.07.2010 | Lucie Muzikova
So tight game we haven´t seen in this tournament before. French players showed their best and they were leading almost in whole game but after all Canadian players are celebrating and they are looking forward to the last game - final game against home Czech players.
Game 5 • SF • We 7.7.2010 • 19:00 • Schedule and results
Canada
5:4pp
France
(1:3, 3:1, 0:0 - 1:0)
Fisher - Clarke, Devereaux, Grigg, Jarrell, Ludolph, Merante, Nanji, Shirley, Sorbara
Binet - Auger, Delhon, Hemar, Jupillat, Larche, Minelli, Benoit, Dalzotto, Drici, Faguaga, Rangeon, Ravix, Serreo
Goals and assists: 19. Nanji (Merante), 27. Nanji (Clarke), 32. Sorbara (Grigg), 38. Nanji (Shirley), 44. Jarrell (Devereaux) - 4. Rangeon(Dalzotto), 13. Rangeon (Dalzotto), 14. Rangeon (Drici), 35. Rangeon
Penalties: 1:2. PP goals: 2:1. SH goals: 0:0.
Referees: Ruzickova, Gloor .
Official game sheet (PDF) video
Report
The outsider came peffecly to the game. Already in the 4th minute, the French hockey players scored by Rangeon. Canadian players couldn´t start their attack and their mistakes were misused to quick by the French counterattacks. One of them finished on the upperbar. After a few moments, the French girls scored two quick goals by Rangeon again, so she reached a hat-trick. Canadian players started to dominate in this game and in the 19th minute, Nanji scored first Canadian goal.
Players of Team Canada started to play better in the second half. It was useful to them as a dead overcoat because Binet in the French net was excellent. But even she was short to the shot by Nanji and players of the Maple Leaf scored to make it 2:3. Five minutes later, Team Canada scored the 3rd goal thanks to Sorbar, but French players converted their power play in 35th minute and Team Canada were losing again. The drama didn´t end because Canda could shoot another goal and after 40 minutes it was 4:4.
It continued with extra time where Jarell took a key shot and Canadian players can look forward to the final game against the Czech Republic.
Author: Lucie Muzikova
Comments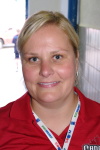 Donna Forbes (Team Canada coach): It was quite a difficult match. We have scored five or six goals before in a matter of a few minutes, so we did not give up, stayed calm, each girl contributed and it was a team effort. We showed a lot of character, being 3-0 and 4-3 down with five minutes left and still kept coming back. I am pretty happy about it.
10.8. |
Do you like to bet on the game that is already in play? The betting office Bet365 has the biggest offer of live bets on the internet! Find out yourself.
The best informations about Bwin.comall in one place.
Enter the world of the quickly growing family of the company Bet-at-home and experience the joy of winning right from the comfort of your own house.
Rich offer of betting opportunities and attractive odds – that is DOXXbet.
18.7. | Closing ceremony
We have added some photos from the medal and closing ceremony.
17.7. | All Stars team
Michael Urbano (USA) - Julien Walker (SUI), Karel Rachunek (CZE), Travis Fudge (USA), Brian Baxter (MEX).
17.7. | Individual awards
MVP: Travis Fudge (USA), Best goalkeeper: Michael Urbano (USA), Best defender: Karel Rachunek (CZE), Best forward: Diego Schwarzenbach (SUI), Fair play award: Team Spain.
» Archive