Team Mexico beat Argentine players and celebrates advance to the quarter-finals
15.07.2010 | Lucie Muzikova
The slow start and very stunning end. That´s the very brief summary of duel against Team Argentina and Mexico. After the result 6-4 for Mexicans, their players can look for the quarter-finals where they meet with home Czech Team. The hero of this game was Mexican Brian Baxter, who scored 4 goals and he added one precise pass.
Game 5 • C • Th 15.7.2010 • 11:00 • Schedule and results
Argentina
4:6
Mexico
(1:4, 3:2, 0:0)
Petasny (17. Fernandez) - Echevarria, Flores, Guzman, M.Marengo, A. Marengo, S. Marengo, Bustos, Petasny, Portabella, Vigilante, Perez, Lombardo.
Guadarrama (Suarez) - Auiles, Cardoso, Martinez, M. Ordonez, Hernandez, Campos, Baxter, Coene, Pineda, Ramirez, R. Ordonez, Grosso.
Goals and assists: 20. A. Marengo, 27. M. Marengo (A. Marengo), 28. Portabella (Echevarria), 40. M. Marengo - 12. Baxter (R.Ordonez), 13. Ramirez (Auiles), 15. Baxter (Ramirez), 16. Ordonez (Hernandez), 21. Martinez, 30. Baxter (Hernandez)
Shots: 23:30 (6:16, 17:14, 0:0). Penalties: 3:2. PP goals: 0:2. SH goals: 0:0.
Referees: R. Antighechi, A. Grandini .
Official game sheet (PDF) video
Report
The last game in B pool was played by Teams Argentina and Mexico. The second named had to win if their players wanted to play in quarter-finals. This fact reflacted into the beginnin of the game. Firstly, Petasny was rescued with his left bar, but after the next drive the score was opened. Brian Baxter took a easy shot to save but Petasny wasn´t successful, and Team Mexico was leading.
Only after 24 second there was another goal in Argentine net and it was after the same situation but this time by Ramirez. At the beginning of 15th minute Mexicans combinated in exclusive way, all of the four was in, and at the end Baxter scored his 2nd goal in this game. And it wasn´t all from this player – he reached hat-trick after one minute, when he got an ideal pass to the centre and he took a great shot right to the left corner. Before the end of 1st scored also Argentine player thanks to Marengo and it was 4-1 for Mexico.
Martinez converted the mess in the opponent´s defence and he scored 5th goal for Team Mexico. But Mexicans a little bit slowed down and Team Argentina scored two goals. Firstly could celebrate again Marengo and after him celebrated Portabel.
And goalfest continued, Baxter was unstoppable and he run away from all opponents and after short breakway he scored again. red again. In the very last minute the 10th goal in this game was scored by Martin Marengo and this players closed down this game.
"We are glad that we continue. Fortunately, we could score quick 4 goals in the 1st half. Next game we will against the Czech Republic. We really good know, that is really hard to get ready for the game what is difficult as that. In spite of this, we want to play our best and surprise the opponent," says Brian Baxter, Mexican star, after the game. "We had good start to the group. We beat Team Great Britain and we think that we can advance. But the main reason, why we flight here, is to reached some new experiences," says Andres Perez Cuesta from Team Argentina.
Author: Lucie Muzikova
Comments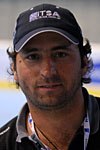 Leandro Oscar Marengo (Team Argentina coach): We lost because we lost at the beginning our best player. It really confused us, plus we had injured our goalie Nr.1. We have to deal that we don´t continue to the quarter-finals.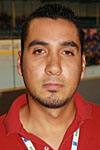 Polanco Gerardo (Team Mexico): I belived that we can win the group C and I am very glad. Argentine players played hard and I have to admit that we had a big luck. This is the first time when we beat Team Argentina.
10.8. |
Do you like to bet on the game that is already in play? The betting office Bet365 has the biggest offer of live bets on the internet! Find out yourself.
The best informations about Bwin.comall in one place.
Enter the world of the quickly growing family of the company Bet-at-home and experience the joy of winning right from the comfort of your own house.
Rich offer of betting opportunities and attractive odds – that is DOXXbet.
18.7. | Closing ceremony
We have added some photos from the medal and closing ceremony.
17.7. | All Stars team
Michael Urbano (USA) - Julien Walker (SUI), Karel Rachunek (CZE), Travis Fudge (USA), Brian Baxter (MEX).
17.7. | Individual awards
MVP: Travis Fudge (USA), Best goalkeeper: Michael Urbano (USA), Best defender: Karel Rachunek (CZE), Best forward: Diego Schwarzenbach (SUI), Fair play award: Team Spain.
» Archive