VEN – AUS 1:9: Team Australia keep their play off hopes alive
15.07.2010 | Lukas Peroutka
Dean Dunstan scored four goals to lead his team to a comfortable victory over Team Venezuela and keep Australian play off hopes alive. Aussies now face an anxious wait for a result of the last Group C game between Mexico and Argentina.
Game 5 • C • Th 15.7.2010 • 09:30 • Schedule and results
Venezuela
1:9
Australia
(0:3, 1:6, 0:0)
Martinez (34. Johnson) - Fernandez, Baldayo, Delgado, Osa, Singer, Contreras, Valentiner, Velandia, Bustamante, Laurenco, Romero, Salas, Gill.
MacLou - Collins, Bergamin, Adams, Haynes, Hayres, Belic, Dunstan, Best, Brophy, Smith.
Goals and assists: 39. Salas (Fernandez) - 16. Dunstan (Belic), 16. Belic (Collins), 19. Dunstan (Belic), 21. Dunstan, 23. Smith (Collins), 29. Belic (Dunstan), 34. Collins (Belic), 37. Dunstan (Collins), 37. Brophy (Hayres).
Shots: 15:35 (3:16, 12:19, 0:0). Penalties: 7:3. PP goals: 0:0. SH goals: 0:0.
Referees: Miller, Low..
Official game sheet (PDF) video
Report
Both teams started the game carefully, trying to avoid defensive mistakes and the tempo wasn´t really breathtaking. Couple of penalties did not help, either, and the deadlock was broken late in the first half thanks to Dean Dunstan after 15 minutes of play. Dunstan together with Stephen Belic and Anthony Collins were the most dangerous Australian players, contributing to most of their team´s goals.
Belic and Dunstan scored before the end of first half to make it 3-0 and Dean Dunstan completed his hat-trick shortly after the break. Most of the goals came from close range after good passes from wings which Venezuelan team was not able to defend. Smith and Belic scored another couple of goals to increase the lead to 6-0.
Probably the best Venezuelan player was goalkeeper Paul Martinez, who stopped many chances, but was substituted after 34 minutes of play and his replacement David Johnson conceded three goals in quick succession from Collins, Dunstan and Brophy to take the score closer to a ten mark. However, end of the game became a bit sour for Team Australia, when Salas´s backhand shot found its way into the goal between keeper´s pads to set the end result at 9-1 for Australia.
Author: Lukas Peroutka
Comments
David Haynes (Team Australia coach): It was a very difficult match in the beginning, because we had trouble with our finishing. But I am happy we have played well even as outsiders and showed the world we can match anyone. If someone told me before the tournament that we will be fighting for a quarterfinal spot until the very last moment, I would not believe him.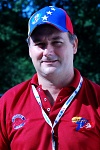 Alejandro Valentiner (Team Venezuela coach): All players lacked a bit of tempo to earn a better result. We did not have any big ambitions before the tournament, but I was hoping we could do well in this match. I believe we will win our next match. It will be the most important game of the tournament for us.
10.8. |
Do you like to bet on the game that is already in play? The betting office Bet365 has the biggest offer of live bets on the internet! Find out yourself.
The best informations about Bwin.comall in one place.
Enter the world of the quickly growing family of the company Bet-at-home and experience the joy of winning right from the comfort of your own house.
Rich offer of betting opportunities and attractive odds – that is DOXXbet.
18.7. | Closing ceremony
We have added some photos from the medal and closing ceremony.
17.7. | All Stars team
Michael Urbano (USA) - Julien Walker (SUI), Karel Rachunek (CZE), Travis Fudge (USA), Brian Baxter (MEX).
17.7. | Individual awards
MVP: Travis Fudge (USA), Best goalkeeper: Michael Urbano (USA), Best defender: Karel Rachunek (CZE), Best forward: Diego Schwarzenbach (SUI), Fair play award: Team Spain.
» Archive