Hutchinson scored four times and in the crucial moments
15.07.2010 | David Schlegel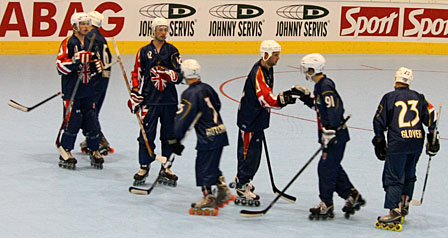 The Germans went into the last game in Group C knowing they are already in the quarterfinals. They needed just one point to secure the 1st place in the group. However, Great Britain was more hungry and won.
Game 5 • C • Th 15.7.2010 • 08:00 • Schedule and results
Germany
5:8
Great Britain
(2:2, 3:6, 0:0)
Felkel - Bierschenk, F. Carciola, Heinrich, S. Schlicht, A. Carciola, D. Schlicht, Brinkmann, Werham, Christo, Wintgen.
Duffy - Hutchinson, France, Glover, Moran, Gee, Dickinson, Finney, Cross, Shelton, Lane.
Goals and assists: 9. Brinkmann (Carciola), 18. Heinrich (Wintgen), 26. Christo (Heinrich), 26. Schlicht D. (Carciola), 37. Bierschenk - 2. Lane (Cross), 15. Hutchinson (Glover), 23. Shelton (Finney), 28. Hutchinson (Shelton), 29. Hutchinson (Glover), 33. Hutchinson (Finney), 36. Shelton, 38. Finney (Shelton)
Shots: 26:24 (0:0, 0:0, 0:0). Penalties: 4:2. PP goals: 0:1. SH goals: 0:1.
Referees: Cordoba, Wagner.
Official game sheet (PDF) video
Report
Germans trailled since the start, but in 26th minute they gain the lead 4:3. They were unable to protect it though and Team Great Britain turned a game over. The best player of the game was Danny Hutchinson who alone scored a hat-trick from 3:4 to 6:4. In total he scored four goals in the game.
The Great Britain worked hard and showed more spirit in the game. Lane, Hutchinson and Shelton gained the lead three times for Great Britain but Germany was able to answer these goals. Dennis Schlicht then sent Germany into a lead for the first time. At this moment, it looked like Germany might prevail, but two great and almost indetical combination between Glover and Hutchinson turned the game over one more time. "We wanted to do everything to make it through the quarterfinals. We beat Germany and now we can just sit and wait for the next results. We still have a chance," said Rob Shelton of Great Britain.
Than Heinrich had a big chance to tie the game, but hit just the post and Hutchinson scored a crucial goal which made it to two-goal difference for the first time in the game. Great Britain was able to protect two-goal advatage into the end. "I do not know what has happened with us. We did not play well today. We are not choosing any opponent for the quarterfinal game, we wanted to win the group," said German forward Stefan Heinrich.
Author: David Schlegel
Comments
Jesse Panek (coach of Team Germany):
We played really bad as a team. We made plenty of mistakes in our defense. We were not very strong in the offense also. We played only with 9 players, because we have one injured player from yesterday. We would prefer to play France in the quarterfinals, Czechs are a better team, but we still wanted to win this game.
Jason Coles (coach of Team Great Britain): An excellent performance from our players. We played physically a very tough game but our players played extremely well.
10.8. |
Do you like to bet on the game that is already in play? The betting office Bet365 has the biggest offer of live bets on the internet! Find out yourself.
The best informations about Bwin.comall in one place.
Enter the world of the quickly growing family of the company Bet-at-home and experience the joy of winning right from the comfort of your own house.
Rich offer of betting opportunities and attractive odds – that is DOXXbet.
18.7. | Closing ceremony
We have added some photos from the medal and closing ceremony.
17.7. | All Stars team
Michael Urbano (USA) - Julien Walker (SUI), Karel Rachunek (CZE), Travis Fudge (USA), Brian Baxter (MEX).
17.7. | Individual awards
MVP: Travis Fudge (USA), Best goalkeeper: Michael Urbano (USA), Best defender: Karel Rachunek (CZE), Best forward: Diego Schwarzenbach (SUI), Fair play award: Team Spain.
» Archive