Team USA controlled themselves and they won
14.07.2010 | Lucie Muzikova
That was a really hard game for both sides. and even for referees. Team USA was leading almost the whole game and Swiss players stopped control themselves at the end of the game and they got a lot of penalties. In spite of last American game, Team USA played very disciplined and they could celebrate the victory. Americans ended in the 2nd place in the table, Swiss in 3rd.
Game 3 • A • We 14.7.2010 • 16:00 • Schedule and results
USA
6:2
Switzerland
(4:2, 2:0, 0:0)
Urbano (Brown) - Thompson, Mosenson, Keene, Spain, Sgrillo, Fudge, Laricchia, Cadiz, Roux, Redstreake, Messina, Bond
Shocker (21. Siegenthaler) - Diener, Hirt, Brauchli, Ackermann, Rubin, Bill, Ganz, J. Ulrich, Mausli, Reber, Schwarzenbach, Walker, M. Ulrich
Goals and assists: 6. Thompson (Roux), 11. Sgrillo (Messina), 14. Fudge (Larricchia), 21. Fudge, 27. Readstreake (Messina), 38. Messina (Fudge) - 9. Rubin (Brauchli), 20. Rubin (Ulrich).
Shots: 39:25 (19:13, 20:12, 0:0). Penalties: 8:8, plus Hirt (SUI) 10 min, Brauchli (SUI) 5 min + 10 min. PP goals: 0:0. SH goals: 0:0.
Referees: J. Rozlílek, M. Low.
Official game sheet (PDF) video
Report
Team USA began the game in better way, in 6th minute Thompson skated for a rebound and he didn´t miss the net. American pressure was slowed down by two-men power play which finally brought also the 1st goal for Swiss. Very well played combination ended with Rubin´s shot and moving Urbano had no chance to save. American were still more activ and they scored again the leading goal. Firstly, Sgrillo scored in very lucky way and after few moments Fudge scored his 4th goal in this tournament. The numebr of scored goals increased at the very end of the 1st half. 19:43 Rubin reduced the lead of Team USA and also American could answer by Fudge, who scored with the last second.
Team USA scored once more after 7 minutes of the last half, when Americans played very well in their power play and at the end of this situation was Readstreake who stroke the open net. The nervousness of Swiss players was growing and growing and that ended with penalty to the end of game for Hirt, who couldn´t control himself. A very long power play for Team USA brought the last goal of this game by Messina and he closed the duel.
"Unfortunately, we had a lot of penalties in this game and because of it we couldn´t play our game that we used to. That made the difference. We have to learn by that because the next game will be very hard," says Swiss goalie Siegenthaler after the game. "It was a hard game, Swiss were very strong on the puck. They played some power plays and they had some dangerous shots too. It was an unusual game with a lot of penalties. We got less and we killed them," added the opponent from American cage Urbano.
Author: Lucie Muzikova
Comments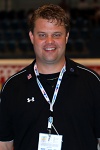 Charles Thuss (Team USA coach): It was penalties-full game. We managed it better than yesterday. We didn´t wait with shooting so long and we controlled more the puck. It is for us a better result. We have to avoid penalties if we want to continue after the quarter-finals but it will be very hard. Every team here is great so we want to play our game tobe successful.
Christian Wittwer (Team Switzerland coach): We had a bad start to the game and we suffered for a lot of penalties. This thing downgraded the whole game. We have to play calm the next game, be more disciplined and play our game. This is the only chance to be successful.
10.8. |
Do you like to bet on the game that is already in play? The betting office Bet365 has the biggest offer of live bets on the internet! Find out yourself.
The best informations about Bwin.comall in one place.
Enter the world of the quickly growing family of the company Bet-at-home and experience the joy of winning right from the comfort of your own house.
Rich offer of betting opportunities and attractive odds – that is DOXXbet.
18.7. | Closing ceremony
We have added some photos from the medal and closing ceremony.
17.7. | All Stars team
Michael Urbano (USA) - Julien Walker (SUI), Karel Rachunek (CZE), Travis Fudge (USA), Brian Baxter (MEX).
17.7. | Individual awards
MVP: Travis Fudge (USA), Best goalkeeper: Michael Urbano (USA), Best defender: Karel Rachunek (CZE), Best forward: Diego Schwarzenbach (SUI), Fair play award: Team Spain.
» Archive