Team Italy goes to quarter-finals after victory 3-2 with Spaniards
14.07.2010 | Lucie Muzikova
After 20 minutes of the 1st half the game appeared in totaly different way. Spaniards were leading 2-0 and they were better on the floor. But the break changed everything. After it Team Italy scored twice and when Frigo reached the 3rd goal, Italian celebrations could start with full energy.
Game 3 • B • We 14.7.2010 • 14:30 • Schedule and results
Italy
3:2
Spain
(0:2, 3:0, 0:0)
Antinori - Eisestecken, Sommadossi, Mantese, Dorigatti, Tessari, Comencini, Roffo, Chelodi, Ceschini, Mosele, Tomasello, Rigoni, Frigo, Stricker.
I. Fernandez - Suarez, Montero, Garcia, Roshchyn, Echevarria, Olmedo, Bejarano, Bachs, Carrillo, Alfaro, Serrano, Marty, Herrero, A. Fernandez.
Goals and assists: 21. Mantese (Comencini), 22. Mosele (Mantese), 33. Frigo (Mosele) - 2. Bejarano (Marty), 7. A. Fernandez.
Shots: 18:22 (10:9, 8:13, 0:0). Penalties: 1:1. PP goals: 0:0. SH goals: 0:0.
Referees: Würtherle, Mackinson.. Audience: 50.
Official game sheet (PDF) video
Report
Both opponents haven´t win yet so this game was about everything because it was a direct duel of teams fighting for the quarter-finals. The quiet favorite of this game was Team Italy, because their players were very good in duel with Team Canada but the 1st half went into the different direction.
Spaniards were the better team from the beginning what was showed also on the score-table. Right in 2nd minute Bejarana punnished a mistake in Italian defense with a great shot under the crossbar. The reached goal pumped up energy into Spanish blood and Italians were sad again after 4 minutes because of goal scored by Alejandro Fernandez.
After 20 minutes the score was 2-0. But after 5-minute break the pciture of game was totaly different. Italian players suddenly were flighting on the floor and after 2 minutes it was tie 2-2 because Mantese and Mosele celebrated their goals. This score was suitable for Team Italy because it brought them into quarter-finals because better total score.
Italian team looked more passive but its quick counterattacks into more and more open Spanish defense really worked. In 32nd minute Frigo closed the score of this game and became Italian hero because he improved the result to 3-2 for Italians.
"It was a dramatical game for the end. We started very bad in this game, we did it few times before. It wasn´t very comfortable to lose afer 20 minute 0-2. But fortunately we came back into the game. We are very glad for our nation, we realized that we were playing for whole country," says Mosele after the game.
The member of defeat team wasn´t so happy. Naturally. "We knew that we had to win in this game. We started very well and we also got to the 2-0 leading. But we really underrated the start of the 2nd and it brought us down. We couldn´t come back into the game," says disappointed Fernando Serrano.
Author: Lucie Muzikova
Comments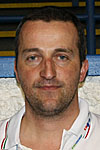 Cristian Rela (Team Italy coach): We were the better team but we have to care more about he beginnings of games. Fortunately, we could score two goals at the beginning of the 2nd half. We worked hard for the victory. I spoke to the players with louder voice during the break and it helped./p>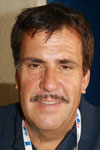 Max Etter (Team Spain Team Manager): I don´t know what I should say. It was clearly an unlucky game for us. When you were leading for two goals and after the game you lost, it is really bad. On the other hand, I have to admit that we could be equal opponent to great Team Italy what has a value.
10.8. |
Do you like to bet on the game that is already in play? The betting office Bet365 has the biggest offer of live bets on the internet! Find out yourself.
The best informations about Bwin.comall in one place.
Enter the world of the quickly growing family of the company Bet-at-home and experience the joy of winning right from the comfort of your own house.
Rich offer of betting opportunities and attractive odds – that is DOXXbet.
18.7. | Closing ceremony
We have added some photos from the medal and closing ceremony.
17.7. | All Stars team
Michael Urbano (USA) - Julien Walker (SUI), Karel Rachunek (CZE), Travis Fudge (USA), Brian Baxter (MEX).
17.7. | Individual awards
MVP: Travis Fudge (USA), Best goalkeeper: Michael Urbano (USA), Best defender: Karel Rachunek (CZE), Best forward: Diego Schwarzenbach (SUI), Fair play award: Team Spain.
» Archive