The easy work against Colombia. France is close to earn first spot in the group
14.07.2010 | Tomas Pavlicek
Team France was expected to win against Team Colombia and its task accomplished without any worries. In the first half the French got into the five goal lead and than the game was under their control. So after the another won Team France shocks in the tournament so far because it is very close to earn first spot in the Group A.
Game 3 • A • We 14.7.2010 • 13:00 • Schedule and results
Colombia
1:6
France
(0:5, 1:1, 0:0)
Guerrero (21. Cuervo) - Higuera, Fierro, Mira, Trivino, Duran, Rosero, Escobar, Ariza, Murillo, Olarte, Hernandez, Agrilar
T. Lefranc (Rebuffet) - Thomas, Ostre, Charbonneau, Gregoire, Couraud, Tijou, J. Ladonne, B. Ladonne, Gabillet, J. Lefranc, Crignier, Jalinier, Guerin, Lapresa.
Goals and assists: 5. J. Ladonne (B. Ladonne), 10. Lapresa (Thomas), 12. Lapresa (Gabillet), 15. B. Ladonne (Tijou), 17. Thomas (Ostre), 28. Jalinier (Lapresa) - 30. Murillo (Agrilar)
Penalties: 6:0. PP goals: 0:2. SH goals: 0:0.
Referees: Miller, Wagner. Audience: 80.
Official game sheet (PDF) video
Report
The French sniped the weakest team of top division from the beginning and Landonne´s family as first got the puck into the net when Benoit passed to Jerome. To 12nd minute Lapresa scored twice and Team France slowly could celebrate another victory.
"Even so we played against outsider, it was not easy game for us. It was important that we went to the game with respect, than we managed it," said Julien Couraud.
Team Colombia did not create any chance and in addition it could be satisfied that the French stroked the goal posts very often. Another French goals were scored mainly in power plays which were converted by Landonne and Julien Thomas. After first half was the score 5:0.
"The game was really difficult but we played very well in comparison to our capabilities," remarked Jesus Murillo. In the second half Team Colombia really improved the performance and South Americans even scored the second goal in the tournament. Murillo ended three-on-one situation with shot into the open net and he tied up the score of the second half.
Author: Tomas Pavlicek
Comments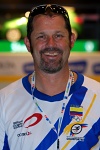 Stephane Marcoux (Team Colombia coach): Today we played the best game in the tournament, I am satisfied. Espacially in the second half we were balanced opponent, it ended with result 1:1. I ame glad for this fact, yeasterday Team France defeat Team USA with which we cannot compete at all. We have tough group, opponents like Team Switzerland are beyond our capabilities.
Olivier Dimet (Team France coach): We know that we cannot expect the easy game. We scored as first and it was very important today than we calmed down. We played well but we must not overrated it. Now we are going to play much tougher opponents.
10.8. |
Do you like to bet on the game that is already in play? The betting office Bet365 has the biggest offer of live bets on the internet! Find out yourself.
The best informations about Bwin.comall in one place.
Enter the world of the quickly growing family of the company Bet-at-home and experience the joy of winning right from the comfort of your own house.
Rich offer of betting opportunities and attractive odds – that is DOXXbet.
18.7. | Closing ceremony
We have added some photos from the medal and closing ceremony.
17.7. | All Stars team
Michael Urbano (USA) - Julien Walker (SUI), Karel Rachunek (CZE), Travis Fudge (USA), Brian Baxter (MEX).
17.7. | Individual awards
MVP: Travis Fudge (USA), Best goalkeeper: Michael Urbano (USA), Best defender: Karel Rachunek (CZE), Best forward: Diego Schwarzenbach (SUI), Fair play award: Team Spain.
» Archive