AUS – GER 3:6: Germany wins a power play game
14.07.2010 | Lukas Peroutka
Team Germany scored four power play goals to beat Team Australia and move only a step away from a quarterfinal spot at this year´s In-Line World Championships.
Game 3 • C • We 14.7.2010 • 08:30 • Schedule and results
Australia
3:6
Germany
(0:4, 3:2, 0:0)
MacLou - Collins, Bergamin, Adams, Haynes, Hayres, Belic, Dunstan, Best, Brophy, Smith.
Stieglitz - Bierschenk, Carciola F., Heinrich, Schlicht S., Carciola A., Schlicht D., Brinkmann, Wertham, Christo, Wintgen.
Goals and assists: 21. Belic (Dunstan), 21. Dunstan (Belic), 34. Collins (Bergamin) - 3. Bierschenk (Christo), 4. Carciola A. (Carciola F.), 10. Carciola F. (Carciola A.), 16. Brinkmann (Carciola F.), 30. Bierschenk (Christo), 39. Heinrich (Carciola A.).
Shots: 26:28 (12:17, 14:11, 0:0). Penalties: 8:8, plus Dunstan (AUS) and Heinrich (GER) 10 min. PP goals: 2:4. SH goals: 0:1.
Referees: Rozlílek, Würtherle.
Official game sheet (PDF) video
Report
Team Australia came into this game almost exactly 24 hours after their narrow loss to Team Great Britain, but their start to the Germany game wasn´t really spectacular. At 2:19, Bierschenk´s slap-shot on a power play was too good for Australian keeper MacLou. One minute later, the same script was followed. Australian penalty, hard slapshot from the left and a red light turned on. This time it was Adriano Carciola and Germans had a 2-0 advantage.
In 10th minute, Australia was looking for a power play goal, too, after first German player was sent to a penalty box, but instead they conceded again after Fabio Carciola finished a quick break away. Things got even worse for a white team when Brinkmann´s rebound found its way into the net on another power play in 16th minute. First half´s score 4-0 told the story and the road back seemed very difficult for Australia. "We were just outplayed," admitted Team Australia captain Michael Haynes.
However, all changed in the first minute of second half thanks to a quick double by Belic and Dunstan and at 2-4 the game was on again. Physical play brought a lot of penalties, another one was punished by a second Bierschenk´s goal after 29 minutes, but was answered four minutes later thanks to a Collins´s slap-shot on a double power play for Team Australia. Germany was still two goals up, they were able to control their emotions in a slightly better way, avoid unnecessary penalties and put a stamp on their victory at 38:05 when Heinrich finished a quick counter attack with a bit of luck to set the final score at 6-3.
"We wanted to win this game. We had to win and we did it. Tomorrow we have to win again to get to the quarterfinal and to be first in the C group," said Team Germany captain Christoph Bierschenk.
Author: Lukas Peroutka
Comments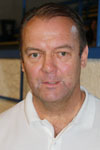 Jesse Panek (Team Germany coach): We were able to make our game more simple today and gain a quick lead. We secured first or second spot in our group, so we are happy. Tomorrow we want to win against Great Britain, too, and finish first in the group. All our games are in early morning or evening, it has some advantages and disadvantages, too. It is not so hot inside the stadium, but we had to get up at 6am today and got only a small breakfast.
David Haynes (Team Australia coach): We are disappointed. We had too many penalties and conceded most of the goals short handed. If you play short handed all the time, it is impossible to win.
10.8. |
Do you like to bet on the game that is already in play? The betting office Bet365 has the biggest offer of live bets on the internet! Find out yourself.
The best informations about Bwin.comall in one place.
Enter the world of the quickly growing family of the company Bet-at-home and experience the joy of winning right from the comfort of your own house.
Rich offer of betting opportunities and attractive odds – that is DOXXbet.
18.7. | Closing ceremony
We have added some photos from the medal and closing ceremony.
17.7. | All Stars team
Michael Urbano (USA) - Julien Walker (SUI), Karel Rachunek (CZE), Travis Fudge (USA), Brian Baxter (MEX).
17.7. | Individual awards
MVP: Travis Fudge (USA), Best goalkeeper: Michael Urbano (USA), Best defender: Karel Rachunek (CZE), Best forward: Diego Schwarzenbach (SUI), Fair play award: Team Spain.
» Archive