CZE – ESP 6:0: Another victory without difficulties for the Czechs
13.07.2010 | Tomas Pavlicek
The Czechs continued in the tournament easily. After their victory over Team Italy they beat another southern European opponent Team Spain with clear result 6:0 and they became leaders of Group B. So one of the top favorite of the tournament confirms its high quality so far.
Game 2 • B • Tu 13.7.2010 • 20:10 • Schedule and results
Czech Republic
6:0
Spain
(4:0, 2:0, 0:0)
Jirkuv - Rachunek, Toman, Strycek, Zacha, Tvrznik, Snopek, Kames, Vozdecky, Besser, Balasz, Rudovsky, Sebek, Loskot, Sinagl
Gonzalez (21. Fernandez I.) - Suarez, Montero, Garcia, Roschyn, Echevaria, Olmedo, Bejarano, Bachs, Carrillo, Alfaro, Serrano, Marty, Herrero, Fernandez A
Goals and assists: 4. Vozdecky (Rachunek), 15. Loskot (Sinagl), 19. Rachunek (Vozdecky), 19. Sebek ( Toman), 23. Kames (Loskot), 25. Sebek (Vozdecky)
Shots: 25:11 (16:8, 9:3, 0:0). Penalties: 2:3. PP goals: 0:0. SH goals: 0:0.
Referees: G. Miller, T. Wagner.
Official game sheet (PDF) video
Report
¨
The Czechs scored the important first goal quite soon. In 4th minute Rachunek moved the puck to Vozdecky and he got it into the net. The Spanish were dangerous only in the beginning, espacially when Suarez in Czech power play went into breakaway. Fortuantely for home team the goalie Jirkuv performed a big save.
Even so Team Spain had only one opportunity to score in the game, the captain Ramon Marty was not so sad. "Unfortunately we did not score but our game was not so bad," said after defeat.
The home team started to score more goals in the end of the half. In 15th minute Sinagl sent perfect flip pass to Loskot and he made stick deke and shot between goalie´s pads. In 19th minute Rachunek with Sebek increased the margin to score 4:0 so before intermission was sure who the winner of the game will be.
In the second half only Kames and Sebek beat the substitute goalkeeper Fernandez so the score was stopped on the result 6:0. "The game was really clear, only in the beginning it took long time than we scored more goals. The Spanish are known to not open the game, they defense most of the time. Fortunately we scored first goal at least and than we added another. Even so it was not easy against so defensive team," explained Milan Toman why the difference was not bigger.
Author: Tomas Pavlicek
Comments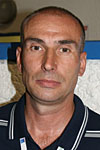 Jiri Suhrada (Team Czech Republic coach): We filled our goal which we have in the each game, it means that we want to allow the least goals. We played on the puck very well, we were better all the time. We made two little mistakes in the first half but we managed the second half great and we even could add two more goals.



Pablo Pons (Team Spain coach): The result is not so scared when we know that in the Czech Republic play proffesional players and in the Spain is in-line hockey only hobby. In addition we last two months did not train, only last week we did. It was not so bad today.
10.8. |
Do you like to bet on the game that is already in play? The betting office Bet365 has the biggest offer of live bets on the internet! Find out yourself.
The best informations about Bwin.comall in one place.
Enter the world of the quickly growing family of the company Bet-at-home and experience the joy of winning right from the comfort of your own house.
Rich offer of betting opportunities and attractive odds – that is DOXXbet.
18.7. | Closing ceremony
We have added some photos from the medal and closing ceremony.
17.7. | All Stars team
Michael Urbano (USA) - Julien Walker (SUI), Karel Rachunek (CZE), Travis Fudge (USA), Brian Baxter (MEX).
17.7. | Individual awards
MVP: Travis Fudge (USA), Best goalkeeper: Michael Urbano (USA), Best defender: Karel Rachunek (CZE), Best forward: Diego Schwarzenbach (SUI), Fair play award: Team Spain.
» Archive