Team Argentina beat Team Venezuela 6-2
13.07.2010 | Lucie Muzikova
Argentine in-line hockey players beat Team Venezuela 6-2 in their second game in this tournament and he got their first two points. The star of this game was Argentine forward Sebastian Marengo, who scored two goals and added one more precise pass.
Game 3 • C • Tu 13.7.2010 • 12:00 • Schedule and results
Argentina
6:2
Venezuela
(4:1, 2:1, 0:0)
Petasny (Fernandez) - Echevarria, Flores, Guzman, A. Marengo, M.Marengo, S. Marengo, A. Bustos, P. D. Petasny, I. Portabella, Vigilante, A. C. Perez, Lombardo.
Martinez (Jhonson) - Fernandez, Baldayo, Delgado, Osa, Singer, Contreras, Valentiner, Velandia, Bustamante, Lourenco, Romero, Salas, Gill.
Goals and assists: 2. S. Marengo, 6. Echevarria (S. Marengo), 11. Guzman, 16. Portabella (E. Marengo), 30. Guzman, 30. S. Marengo - 9. Osa, 37. Delgado.
Shots: 25:12 (15:6, 10:6, 0:0). Penalties: 2:3. PP goals: 2:0. SH goals: 1:0.
Referees: Würtherle, Antighechi.
Official game sheet (PDF) video
Report
Spectators didn´t gave to wait for the first goal for too long. At the beginning of 2nd minute a small hesitation of opponent was converted into leading goal by Marengo. It was worse for Team Venezuela in the 6th minute. Very well-played power play was ended with a shot from Echevarria to the empty net.
Venezuelan playes scored their 1st goal in the 8th minute, when an unique opportunity was converted by Osa who shot throught Argentine goalie. The next run of the 1st half belong predominantly to Argentine team. Another goal was added by Guzman, who stroke the upper bar and than the puck fell behind the net line, and in 16th minute 4th goal for Team Argentina was reached in power play by Portabella.
Team of Murengo went into the to the 2nd half leading by 3 goals, which it could increase soon. Active Guzman left the puck with elegant drop pass for alone Morese, but he was too close to the net and he stroke only Venezuelan goalie Martinez.
The 6th goal finally was reached by Team Argentina. Guzman skated to the right circle and he sent the puck with a presize shot under the crossbar. After 35 seconds Argentine players scored once more. Sebastian Morego took a shot to Venezuelan net and he surprised Martinez. Only a cosmetical form was made by Venezuelan Delgado, who scored thanks to his emphasis.
"We controlled the puck for the whole game and we pressed the opponent. We created a lot of chances and we deserved to win," says Sebastian Marengo, Argentine player, who scored two goals.
Author: Lucie Muzikova
Comments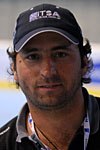 Oscar Leandro Marengo (Team Argentina coach): "It was not so easy. Team Venezuela played very hard in defence. We had to play hard to score. We are glad, that we did it."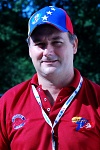 Alejandro Valentiner (Team Venezuela coach): "We tried to be a balanced opponent for Team Argentina, but we didn´t manage it and we lost. I hope, that we will play better game against Team Mexico."
10.8. |
Do you like to bet on the game that is already in play? The betting office Bet365 has the biggest offer of live bets on the internet! Find out yourself.
The best informations about Bwin.comall in one place.
Enter the world of the quickly growing family of the company Bet-at-home and experience the joy of winning right from the comfort of your own house.
Rich offer of betting opportunities and attractive odds – that is DOXXbet.
18.7. | Closing ceremony
We have added some photos from the medal and closing ceremony.
17.7. | All Stars team
Michael Urbano (USA) - Julien Walker (SUI), Karel Rachunek (CZE), Travis Fudge (USA), Brian Baxter (MEX).
17.7. | Individual awards
MVP: Travis Fudge (USA), Best goalkeeper: Michael Urbano (USA), Best defender: Karel Rachunek (CZE), Best forward: Diego Schwarzenbach (SUI), Fair play award: Team Spain.
» Archive