GBR – AUS 2:1: Team GB survives final scare to grind out a win
13.07.2010 | Lukas Peroutka
Danny Hutchinson scored both British goals to help his team to a second victory in the tournament in a very tight game against a resilient Australian side. Team Australia was close to a point in final seconds, when they twice hit the post and missed a open net.
Game 2 • C • Tu 13.7.2010 • 09:00 • Schedule and results
Great Britain
2:1
Australia
(1:1, 1:0, 0:0)
Duffy - utchinson, France, Glover, Moran, Ge, Dickinson, Finney, Cross, Shelton, Lane.
Smart - Collins, Bergamin, Adams, Haynes, Hyres, Belic, Dunstan, Best, Brophy, Smith.
Goals and assists: 1. Hutchinson (Finney), 25. Hutchinson (Shelton) - 5. Dunstan
Shots: 21:19 (10:12, 11:7, 0:0). Penalties: 3:1. PP goals: 0:0. SH goals: 0:0.
Referees: Miller, Cordoba.
Official game sheet (PDF) video
Report
The opening game of the second day of the tournament offered a quick and fiery start with a couple of goals. At that time, it did not look like the early spectators were about to see just three in the whole game. With 49 seconds played, Danny Hutchinson received a precise pass to the slot and fired home a nice shot just above keeper´s pad. Team Australia equalized in 5th minute after Dean Dunstan burst of speed created him some space in the center of the pitch and his hard slap-shot found its way past stretching British keeper.
Australia had a big chance to move in front after 12 minutes of play, when two British players were sent to a penalty box at the same time. However, Moran and France could watch a heroic performance of their two remaining team mates who were able to keep Australia at bay and survive the difficult minutes.
Team Australia were left to rue this missed opportunity at the start of second half when Shelton´s shot hit the post, rebounded onto the stick of Danny Hutchinson and he regained the lead for Britons once again. After that, Team GB concentrated their efforts on protecting their hard earned lead and using every opportunity to counter attack. Australia found it difficult to break through British defense and had virtually no chance for scoring until the very last minute.
With 25 seconds to go, Australian coach pulled the goalkeeper and his team was able to secure a face-off in the offensive zone. British keeper Duffy could not hold onto Dunstan´s hard shot, Haynes hit the outside of left post, rattled the right post with a following shot and the loose puck was put wide of the open net by Dunstan. The final horn came as a huge relief for GB and brought bitter disappointment for Team Australia.
Author: Lukas Peroutka
Comments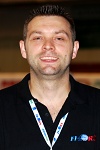 Jason Coles (Team Great Britain coach): It was a very defensive and physical game. Penalty killing was a key to our success. We are quite happy to play in the morning because it is not so hot and we are used to cooler temperatures. We played pretty well but still have to work on our scoring.
David Haynes (Team Australia coach): It was a very difficult game for us. We tried to be patient, but Great Britain did not let us have many chances. They came late in the game, unfortunately we could not use them and get anything from the game.
10.8. |
Do you like to bet on the game that is already in play? The betting office Bet365 has the biggest offer of live bets on the internet! Find out yourself.
The best informations about Bwin.comall in one place.
Enter the world of the quickly growing family of the company Bet-at-home and experience the joy of winning right from the comfort of your own house.
Rich offer of betting opportunities and attractive odds – that is DOXXbet.
18.7. | Closing ceremony
We have added some photos from the medal and closing ceremony.
17.7. | All Stars team
Michael Urbano (USA) - Julien Walker (SUI), Karel Rachunek (CZE), Travis Fudge (USA), Brian Baxter (MEX).
17.7. | Individual awards
MVP: Travis Fudge (USA), Best goalkeeper: Michael Urbano (USA), Best defender: Karel Rachunek (CZE), Best forward: Diego Schwarzenbach (SUI), Fair play award: Team Spain.
» Archive