VEN – GER 0:7: Germany close first day with their second win
12.07.2010 | Lukas Peroutka
Adriano Carciolla scored a hat-trick as Team Germany earned its second victory of the day in the evening match to move top of Group C with two wins. There was never any doubt about the winner of this game as Germans dominated from the very beginning.
Game 2 • C • Mo 12.7.2010 • 19:45 • Schedule and results
Venezuela
0:7
Germany
(0:2, 0:5, 0:0)
Martinez (Jhonson) - Fernandez, Beldayo, Delgado, Osa, Singer, Contreras, Valentinger, Velandia, Bustamante, Lourenco, Romero, Salas, Gill.
Felkel (Stieglitz) - Bierschenk, F. Carciola, Heinrich, S. Schlicht, A. Carciola, D. Schlicht, Brinkmann, Wertham, Christo, Wintgen.
Goals and assists: 2. A. Carciola, 16. A. Carciola (Christo), 23. D. Schlicht (Carciola), 26. Brinkmann (Wertham), 29. Brinkmann (F. Carciola), 30. A. Carciola (Christo), 39. S. Schlicht (F. Carciola)
Shots: 15:26 (0:0, 0:0, 0:0). Penalties: 5:5. PP goals: 0:2. SH goals: 0:0.
Referees: Follot, Cordoba.
Official game sheet (PDF) video
Report
Paul Martinez in Venezuela´s goal faced an uphill task from the very first minute as German attacks were coming at him at almost constant rate. In 2nd minute, Adriano Carciola found a loose puck near Venezuelan goal to open the scoring. Number of penalties were called in the following minutes, but it came to no effect on either side. Germans doubled their advantage after 15 minutes of play, Adriano Carciola again being the scorer.
Bustamante and Salas missed a couple of opportunities for Team Venezuela, but Germans were much more dangerous and used some of their chances early in the second half. Denis Schlicht´s precise shot was followed by a double from Alex Brinkmann and although Martinez in goal did all he could, he was substituted by Johnson. However, even he could not stop Team Germany from scoring as Adriano Carciola completed his hat-trick on a power play in 30th minute and Sven Schlicht added the final stamp on German victory with two minutes to go.
Author: Lukas Peroutka
Comments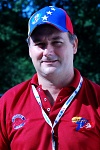 Alejandro Valentiner (coach of Venezuela): It was very difficult for us. Two games against good opponent reduced our power. But I dare to say, that Team Germany was much better than Team Great Britain. Tommorow we are going to play very important game against Team Argentina and we must relax and prepare well. We do not surrender.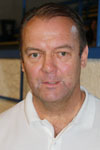 Jesse Panek (coach of Germany): We scored more goals than in the morning, kept the clean sheet, but our opponent was definitely weaker. The real goal of this match was to try some game situations, unfortunately we could not do that. Therefore, I am not completely happy. I do not belong among coaches who want to score 20 or more goals, but I am not happy enough with this performance. We have too few players, have to do a lot of shifts and could not save energy.
10.8. |
Do you like to bet on the game that is already in play? The betting office Bet365 has the biggest offer of live bets on the internet! Find out yourself.
The best informations about Bwin.comall in one place.
Enter the world of the quickly growing family of the company Bet-at-home and experience the joy of winning right from the comfort of your own house.
Rich offer of betting opportunities and attractive odds – that is DOXXbet.
18.7. | Closing ceremony
We have added some photos from the medal and closing ceremony.
17.7. | All Stars team
Michael Urbano (USA) - Julien Walker (SUI), Karel Rachunek (CZE), Travis Fudge (USA), Brian Baxter (MEX).
17.7. | Individual awards
MVP: Travis Fudge (USA), Best goalkeeper: Michael Urbano (USA), Best defender: Karel Rachunek (CZE), Best forward: Diego Schwarzenbach (SUI), Fair play award: Team Spain.
» Archive