Team USA controlled the whole game against Team Colombia and won 10:0
12.07.2010 | Lucie Muzikova
This game had a clear favorite - Team USA. And American players showed that they came to this tournament with the highest aims. In spite of a great performance of Andres Cuervo, Team USA could score for ten-times and their players deserved to win. The best players from the winners were Travis Fudge with hat-trick and his collegue Jose Cadiz Jr., who scored two goals and made 3 presice passes.
Game 1 • A • Mo 12.7.2010 • 12:30 • Schedule and results
USA
10:0
Colombia
(6:0, 4:0, 0:0)
Brown - Thompson, Mosenson, Keene, Spain, Sgrillo, Fudge, Larichia, Cadis Jose, Roux, Dustin, Redstreake, Messina, Bond.
Guerrero (5. Cuervo) - Higuera, Fierro, Mira, Trivino, Duran, Rosero, Estobar Luis, Ariza, Murillo, Olarte, Hernandez, Agilar.
Goals and assists: 1. Fudge (Mosenson), 2. Laricchia , 5. Cadiz , 10. Fudge (Cadiz), 10. Messina (Thomson), 16. Fudge (Bond), 22. Cadiz (Mosenson), 26. Thophson (Cadiz), 31. Messina (Cadiz), 36. Morensen (Laricchia)
Shots: 32:13 (16:8, 20:5, 0:0). Penalties: 1:4. PP goals: 1:0. SH goals: 1:0.
Referees: Mackinnon, Cordoba. Audience: 50.
Official game sheet (PDF) video
Report
The favorite of this game was clear before the first minute. And Team USA declared their aims very emphatically. After only 22 second Fudge scored his first goal in this game after his individual drive. His collegue Laricchia followed him and after a minute he beat the Colombia golie for the 2nd time. Team Colombia didn´t catch the very first minutes and they conceded again after few moments after another great individual effort, this time by Jose Cadiz Jr. It was right enough for Colombian keeper – Guerrero went out from the net and he was replaced with Cuervo. New man in Colombian net didn´t have a clean sheet for too long. In 10th minute he conceded right twice – from sticks of Fudhe and Messina. The first named – Travis Fudge reached his hat-trick after 5 minutes after superb combination with Ryand Bond.
Team Columbia wasn´t an easy opponent, they skated very well, they played like team. We had to work very hard to defeat them. I am very glad for my hat-trick, but I am more worried about my team. We came here with high aims, so we will see," says American hero after the game.
It didn´t take a long time and there was the 1st American goal in the second half. Jose Cadiz Jr. shot his 2nd goal after pass from Mosenson. The pressure by Team USA continued and it was rewarded with another goals by Thomson and Messina again. In spite of great performance of Cuervo, who rescued his team from total disaster, US celebrated once more – Mosenson closed down this game.
Author: Lucie Muzikova
Comments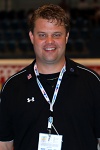 Charles Thuss (Team USA coach): We are satisfied with the result of this game, before two days we would be happy about that. We knew that we are the favorits of this game, so we concentrated on our game. We should work on our puck control and on converting our chances. I believe that we will be better after each game.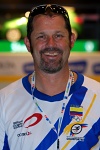 Stephane Marcoux (Team Columbia coach): We didn´t catch the first 15 minutes. We knew that we would play against a very strong opponent, but I think, that we had more respect that we should. We have to play next games more activ and with style, which we planned before this tournament. Then we should be more successful.





10.8. |
Do you like to bet on the game that is already in play? The betting office Bet365 has the biggest offer of live bets on the internet! Find out yourself.
The best informations about Bwin.comall in one place.
Enter the world of the quickly growing family of the company Bet-at-home and experience the joy of winning right from the comfort of your own house.
Rich offer of betting opportunities and attractive odds – that is DOXXbet.
18.7. | Closing ceremony
We have added some photos from the medal and closing ceremony.
17.7. | All Stars team
Michael Urbano (USA) - Julien Walker (SUI), Karel Rachunek (CZE), Travis Fudge (USA), Brian Baxter (MEX).
17.7. | Individual awards
MVP: Travis Fudge (USA), Best goalkeeper: Michael Urbano (USA), Best defender: Karel Rachunek (CZE), Best forward: Diego Schwarzenbach (SUI), Fair play award: Team Spain.
» Archive