In spite of troubles, Team Australia won duel with Mexicans
12.07.2010 | Lucie Muzikova
Team Australia and Team Mexico, this was the plan of the 3rd game in men´s tournament. Both teams showed their best but Team Australia was simply better. In spite of, that Mexicans shot their 3 goals, Australians had the whole game under control and they deserved to win.
Game 1 • C • Mo 12.7.2010 • 11:00 • Schedule and results
Australia
5:3
Mexico
(3:0, 2:3, 0:0)
MacLou - Collins, Bergamin, Adams, Haynes, Hayres, Belic, Dunstan, Best, Brophy, Smith.
Guadarrama - Aulies, Cardoso, Martinez, Miguel Ordonez, Hernandez, Campos, Baxter, Coene, Pineda, Ramirez, Roberto Ordonez, Grosso.
Goals and assists: 1. Dunstan (Belic), 9. Belic (Adams), 15. Dunstan (Belic), 30. Hayres (Best), 33. Dunstan (Best) - 28. Baxter (Hernandez), 28. Ramirez (Baxter), 32. Pineda (Baxter).
Penalties: 6:5. PP goals: 2:3. SH goals: 1:0.
Referees: Rozlílek, Wagner. Audience: 50.
Official game sheet (PDF) video
Report
Only after nine second was scored the fastest goal in this tournament yet. Dean Dunstan shocked Mexican defence and scored. The very quick game continued, after next minute spectators saw two penalties. But noone was converted. Team Australia was better at the beginning of the game, Mexicans couldn´t skate behind the middle of the rink. Australians also showed that they are very good in coorporation and Hayres got pass throught whole rink but the puck didn´t follow his orders. But the very next opportunity was converted by Stephan Belic. And Australians didn´t have to wait for another goal very long. In 15th minute Dean Dunstan didn´t devise any complexity, he just took a big shot and he scored! Mexicans had their biggest opportunity at the end of the 1st half, when Ramirez stroke the left bar.
Next 7 minute the game was like that Mexicans wouldn´t score but Team Australia offered them chances themselves. After three penalties for interference, Team Mexico scored three goals in power plays. That was like very good and working machine – Baxter, Ramirez and Pineda. But Australia had always an answer so every hope to draw at the end of the game was destroyed. Heyres and Dunstan calmed down whole team and they kept the leading to the last seconds.
Author: Lucie Muzikova
Comments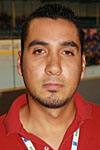 Geraldo Polanco (Team Mexico coach): The game didn´t suit us very well, we had lost the introduction. But we are always like this in every tournament but we get better everytime. In group C we would like to finish as the first or the second team.
David Haynes (Team Australia coach): It is always nice to start a tournament with the win. We controlled the puck very well, had plenty of opportunities and we took them, which is good. There was a period of two or three minutes when we lost our way a bit, Mexicans scored two or three goals, but we got back to our gameplan. We are used to this heat in Australia, but at the moment it is winter over there and nil degrees, so it is taking us a while to get used to it.
10.8. |
Do you like to bet on the game that is already in play? The betting office Bet365 has the biggest offer of live bets on the internet! Find out yourself.
The best informations about Bwin.comall in one place.
Enter the world of the quickly growing family of the company Bet-at-home and experience the joy of winning right from the comfort of your own house.
Rich offer of betting opportunities and attractive odds – that is DOXXbet.
18.7. | Closing ceremony
We have added some photos from the medal and closing ceremony.
17.7. | All Stars team
Michael Urbano (USA) - Julien Walker (SUI), Karel Rachunek (CZE), Travis Fudge (USA), Brian Baxter (MEX).
17.7. | Individual awards
MVP: Travis Fudge (USA), Best goalkeeper: Michael Urbano (USA), Best defender: Karel Rachunek (CZE), Best forward: Diego Schwarzenbach (SUI), Fair play award: Team Spain.
» Archive