The first victory for Team Germany, great Argentine finish came too late
12.07.2010 | Tomas Pavlicek
The second game of tournament became a goal fest again. Team Argentina as a representant of South America performed the game similar to Team Venezuela in the previous match and in the final minutes it wanted to remove the opponent´s margin. Unfortunatelly it was too late and so Team Germany celebrates first won after result 9:6.
Game 1 • C • Mo 12.7.2010 • 09:30 • Schedule and results
Germany
9:6
Argentina
(5:3, 4:3, 0:0)
Stieglitz - Bierschenk, Carciola, Heinrich, Schlicht, Carciola, Schlicht, Brinkmann, Wertham, Christo, Wintgen.
Petasny - Echevarria, Flores, Marengo Augustin, Marengo Martin, Marengo Sebastian, Bustos, Petasny, Portabella, Vigilante, Perez, Lombardo
Goals and assists: 6. Wintgen (Wertham), 6. A. Carciola, 13. A. Carciola, 18. Heinrich (Bierschenk), 19. Wertham (Bierschenk), 26. D. Schlicht (A. Carciola), 31. Heinrich (Christo), 36. Heinrich, 37. Christo - 2. S. Marengo (A. Marengo), 15. Guzman, 16. A. Marengo (S. Marengo), 38. S. Marengo, 39. M. Marengo, 40. Portabella (Vigilante)
Shots: 39:21 (21:9, 18:12, 0:0). Penalties: 2:6. PP goals: 4:0. SH goals: 0:0.
Referees: Miller, Antighechi.
Official game sheet (PDF) video
Report
Underrated Team Argentina in 2nd minute surprised the opponent and Sebastien Marengo scored first goal with nice sreen shot. But Germans in 6th minute performed their power and it seemed that Latin Americans have got no chance. At first Wertham sended the puck in front of the open net to Marvin Wintgen and he shot easily. Than Adriano Carciola with easy shot headed between Petasny´s pads.
The same player added other goal in 13rd minute and Team Argentina seemed destroyed. But Guzman and Marengo with two goals tied the game and revived the Argentine hopes. But closely before the half Team Germany already reigned on the playground. Yanick Wertham scored twice and arranged a quiet intermission for his team.
In the second half the Germans got bigger the difference on the score 9:3 and even so Team Argentina in the final minutes netted three times, German won could not be at risk.
So Argentina lost the open game but it is not so sad. "It was our first game here so it is not so bad. I think that we will improve. We played well in the final minutes and we scored three goals so it will stimulate us to next game," finds the positives Andres Perez Cuesta.
Author: Tomas Pavlicek
Comments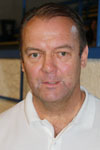 Jesse Panek (Team Germany coach): I was satisfied with the game instead of final five minutes. Than our players stopped playing, they did not push forward and let opponent play. But we are glad, that it finshed well for us. We would like to win the group C, the decisive game is going to be against Team Great Britain.






Oscar Marengo (Team Argentina coach): At fist we were only in defence, but than we knew how to play and we scored several times. But with more offensive style we allowed more goals as well and the opponent earned a huge margin.
10.8. |
Do you like to bet on the game that is already in play? The betting office Bet365 has the biggest offer of live bets on the internet! Find out yourself.
The best informations about Bwin.comall in one place.
Enter the world of the quickly growing family of the company Bet-at-home and experience the joy of winning right from the comfort of your own house.
Rich offer of betting opportunities and attractive odds – that is DOXXbet.
18.7. | Closing ceremony
We have added some photos from the medal and closing ceremony.
17.7. | All Stars team
Michael Urbano (USA) - Julien Walker (SUI), Karel Rachunek (CZE), Travis Fudge (USA), Brian Baxter (MEX).
17.7. | Individual awards
MVP: Travis Fudge (USA), Best goalkeeper: Michael Urbano (USA), Best defender: Karel Rachunek (CZE), Best forward: Diego Schwarzenbach (SUI), Fair play award: Team Spain.
» Archive