Team China managed a quaterfinal with dignity, the favorite scored only six times
06.07.2010 | Tomas Pavlicek
Brave players of Team China earned the best result in the tournament when they lost against big favorite from the USA only 1:6. After three games in the group Chinese players improved their performance and little surprised the opponent and audience. Even so American players go to the semifinal easily and there they are going to play the winner of the quaterfinal between Czech Republic and Spain.
Game 4 • QF • Tu 6.7.2010 • 13:00 • Schedule and results
USA
6:1
China
(3:0, 3:1, 0:0)
Vedder (20. Rackleff) - Era, Giannino, Giovanelli, Loyatho, McCormack, Munhofen, Nicholson, Orner, Santo, Wells.
Gao (21. - 30. Wu) - Qian, Lin, Ye, Zhang, Li, Liang, Ding, Mo, Liang.
Goals and assists: 10. McCormack (Loyatho), 16. Era (Giovanelli), 19. Santo, 27. Wells, 31. Munhofen (Nicholson), 33. Era (Orner) - 34. Ding.
Penalties: 0:2. PP goals: 0:1. SH goals: 0:0.
Referees: Kirschner, Arazimova.
Official game sheet (PDF) video
Report
The Chinese defensive wall was resisting a very long time, till in 10th minute when McCormack scored between goalie´s pads. American players controlled the game and Team China did not cross the red line at all. But every chance and shot was blocked by great keeper Gao, Team USA could not trick the Chinese hero again till a powerplay in 16th minute. Than Era succeded with a fierce shot close to the bar and one minute before the end of first half Santo added third goal.
"Honestly, it was very hard game, Chinese players played very well. They suprised me with their performance. We had to play for 100 percent all game but we have to do this everytime. For semi-finals we can´t choose the opponent, but if you ask me, I want to meet Czech players," said Kelly Caitlin McCormack who scored the first American goal in this game.
The second half was going in the same way, Americans laid siege on the Chinese fort. In the 7th minute Wells sent an easy shot but Wu, who replaced Gao for several minutes in the goal, deflected the puck into her own net. On the following powerplay, Team USA didn´t score but Munhofen did a few seconds later, took a precise shot to the open space above keeper´s glove. The final goal of Team USA was scored by Era and than time for Chinese girls occured. Xiaolin Ding in the individual effort rolled to the left side and with brilliant shot did not give any chance for Vedder´s save.
"American team is very good but I think that they focused on a tactic today and they did not play as well as they could. I can´t be satisfied with the result, because we lost," remarked the most efficiency player of Team China.
Author: Tomas Pavlicek
Comments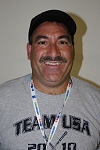 Charles Sgrillo (Team USA head coach): It was very fun game. We really know the difference betweem both teams and so we used this game to improve our perfomance. We are little bit ashamed that we got a goal but on the other hand it was amazing to see the pure happiness of Chinese players who celebrated the goal. They played a very good game and they surprised me how strong they were as team.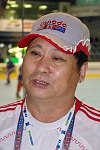 Xingzhi Wang (Team China coach): We learnt from Team USA a lot. They are fast, they co-ordinate and shoot very well. We have several opportunities and I am so happy, that we scored once at least.
10.8. |
Do you like to bet on the game that is already in play? The betting office Bet365 has the biggest offer of live bets on the internet! Find out yourself.
The best informations about Bwin.comall in one place.
Enter the world of the quickly growing family of the company Bet-at-home and experience the joy of winning right from the comfort of your own house.
Rich offer of betting opportunities and attractive odds – that is DOXXbet.
18.7. | Closing ceremony
We have added some photos from the medal and closing ceremony.
17.7. | All Stars team
Michael Urbano (USA) - Julien Walker (SUI), Karel Rachunek (CZE), Travis Fudge (USA), Brian Baxter (MEX).
17.7. | Individual awards
MVP: Travis Fudge (USA), Best goalkeeper: Michael Urbano (USA), Best defender: Karel Rachunek (CZE), Best forward: Diego Schwarzenbach (SUI), Fair play award: Team Spain.
» Archive