CZE – CAN 2:3: Canada claims victory in a stunning game
05.07.2010 | Lukáš Peroutka
Team Canada won the clash of two title favorites on Monday afternoon thanks to Montana Merante goal five minutes before the end of the game. Played in a great atmosphere in front of hundreds of noisy fans, this game provided spectators with thrill, speed and many chances.
Game 3 • B • Mo 5.7.2010 • 17:30 • Schedule and results
Czech Republic
2:3
Canada
(1:2, 1:1, 0:0)
Smardova - Fialova, Holesova, Studentova, Knotkova, Zelenkova, Mrazova, Polenska, Pancakova, Flachsova, Heindlova, Melicharikova, Novakova, Stastna, Vonkova.
Fisher - Clarke, Devereaux, Grigg, Jarell, Ludolph, Merante, Nanji, Shirley, Sorbara.
Goals and assists: 17. Flachsova (Stastna), 31. Zelenkova (Heindlova) - 13. Ludolph, 16. Devereaux (Shirley), 35. Merante (Clarke).
Penalties: 3:2. PP goals: 0:1. SH goals: 0:0.
Referees: Krischner, Gloor.
Official game sheet (PDF) video
Report
With both teams recording comfortable victories in their opening games, this match up provided a first real test of top teams in women´s division. Several hundreds of noisy fans found their way inside Beroun arena and cheered for the home team to create a loud atmosphere. "It was awesome. It made the atmosphere so much more exciting and lot more intense. The fans were going crazy. You play hockey for games like this," Team Canada forward Brooke Ludolph praised Czech fans.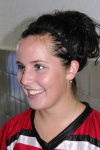 Czechs had the first power play of the game but it was Canada who took the lead, thanks to Brooke Ludolph´s work near the Czech goal. The Canadian forward showed courage and strength to score from a close range rebound. "I shot the puck, then fell over, looked up and the rebound was right there. I was like ´Oh my God, it went in already´," said the lucky scorer Ludolph.
In 16th minute, it was Canada´s turn on a power play and they made the most of it. Devereaux´s slapshot from the slot found its way right under the crossbar. Only a minute later, Czechs came back in style thanks to Katerina Flachsova´s shot and a wicked deflection in front of Canadian goalkeeper. Things could have got better for Canada again, but Devereaux´s power play effort was stopped by a right post of Czech goal.
The second half started with a flurry of chances and both keepers had to be alert against some dangerous shots. With ten minutes to go, Czech team equalized when Petra Zelenkova´s low shot beat goalie Fisher on a glove side. In 35th minute, the deciding moment was preceded by Team Canada timeout. And it paid off in style. After a couple of seconds, 16-year old Montana Merante became a hero as she finished a quick counter attack to make the score 3-2 for Canada. Czechs tried to pull their goalie in the final seconds, but Canada held firm to win Group B.
Author: Lukas Peroutka
Comments

Radek Volf (Team Czech Republic assistant coach): We were indisciplined and had some needless penalties. Most importantly, it was a beautiful game from both sides. We didn´t play well in the last couple of minutes, a draw would be enough to finish first in the group. We should convert some of our early chances, now we are really disappointed. We have to get together during the night to be succesful in the quarterfinals. You need to beat a strong opponent at WC. We failed in our first attempt, so the second has to be better.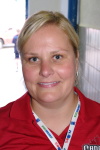 Donna Forbes (Team Canada coach): It was a huge victory today. We knew it is going to be a big game playing the Czechs on national holiday in their home town. The girls played pretty well, Czechs played well, too. We just had a bit more of a cutting edge. The victory could have gone either way. We need to go on game by game and cannot take any opponent lightly. We didn´t have any special preparation, we have relaxed team meetings each day, decided to change our defense a bit and it paid off.
10.8. |
Do you like to bet on the game that is already in play? The betting office Bet365 has the biggest offer of live bets on the internet! Find out yourself.
The best informations about Bwin.comall in one place.
Enter the world of the quickly growing family of the company Bet-at-home and experience the joy of winning right from the comfort of your own house.
Rich offer of betting opportunities and attractive odds – that is DOXXbet.
18.7. | Closing ceremony
We have added some photos from the medal and closing ceremony.
17.7. | All Stars team
Michael Urbano (USA) - Julien Walker (SUI), Karel Rachunek (CZE), Travis Fudge (USA), Brian Baxter (MEX).
17.7. | Individual awards
MVP: Travis Fudge (USA), Best goalkeeper: Michael Urbano (USA), Best defender: Karel Rachunek (CZE), Best forward: Diego Schwarzenbach (SUI), Fair play award: Team Spain.
» Archive