The first Chinese goal was not enough, Tuominen led Team Finland to win
05.07.2010 | Tomáš Pavlíček, Lucie Mužíková
Team China celebrate its first goal in the history of championships but to the first earned point is still long way. Finlandian players scored twelve times and they went to their first victory very easily. Minttu Tuominen became leader of Finland with five goals.
Game 3 • B • Mo 5.7.2010 • 14:30 • Schedule and results
Finland
12:1
China
(3:0, 9:1, 0:0)
Koivisto (Vanhatalo) – Tuominen, Ahvensalmi, Makela, Jokipelto, Lind, Tuira, Heiskanen, Kantee.
Gao (Wu )– Qian, Lin, Ye, Zhang, Lin, Liang Siqi, Ding, Mo, Liang Yinqi, Sun.
Goals and assists: 11. Tuominen (Ahvensalmi), 14. Makela (Heiskanen), 19. Makela (Ahvensalmi), 26. Jokipelto (Tuominen), 27. Tumoninen (Jokipelto), 30. Tuominen, 33. Tuominen (Lynd), 34. Tuominen (Jokipeltova), 34. Tuira (Makela), 35. Heiskanen (Tuira), 40. Heiskanen (Tuominen) - 23. Mo Fei (Zang Heran)
Penalties: 2:0. PP goals: 0:0. SH goals: 0:0.
Official game sheet (PDF) video
Report
In the battle of teams without any point Team Finland reigned from the beginning. Especially the stars of Suomi – Tuominen and Heiskanen – often threatened in front of the Chinese goalkeeper. But Chinese players from previous games improved their performance and created more chances. Combination of Zhang and Mo were very nice. "We had a lot of chances to score but we didn´t catch it and we little regret it," said Mo Fei.
The Chinese defence was very solid in the first half and keeper Gao held clear sheet till to 11st minute. Than Tuominen scored from rebound and she started her great game. To the end of first half Finnish added two more goals. At first Mäkelä skated around the goal and with fierce shot to the top right corner calmed down her team. The same player scored in 19th minute with terrific solo effort.
After changing sides the historical moment of Chinese in-line hockey has come. For the first time offendive duo Zhang – Mo didn´t pass yet but after few second players changed thier roles and Mo turned to be a hero of Asian continent. "I am a captain so I have responsibility to score the goal. Now I did it, I am very happy about that. We filled one of aims that we had attended before the tournament. It is our first time in the championiship and I think that is good start for us," didn´t hide good mood captain Mo.
The enthusiasm of Chinese team didn´t last so long when Jokipelto surprised Gao. One minute later she was followed by Tuominen again during which time she made the differce to four goals and Gao was changed. But Finnish brunette was still hungry for goals and ten minutes to go she reached hat-trick.
The Head coach of Team China then called timeout. It wasn´t still enough for Tuominen and after few moments she scored another two goals. The Finns had good-shooting-mood what was showed by Tuiro and Heiskanen. When it appears that last minute would be just a technicality, Northwomen surprised with two another goals made by Ahvensalmio and Lind. "It was our best game in the tournament by now. I had to give a compliment the performance of Chinese team. I hope that we are ready for playoffs," said Tuominen, who is looking forward to the quarterfinals.
Author: Tomáš Pavlíček, Lucie Mužíková
Comments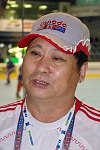 Xingzhi Wang (Team China coach): Team Finland played very well and our team played not bad as well. In this game we scored once so we filled one of our goals. We going to learn from other teams and I hope that we will improve our game.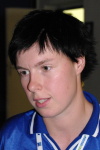 Anna Perttilä (Team Finland head coach): It was a great game for us. We scored twelve times so our self-confidence grew. In a previous game we focused on defence, but today we attacked and held the puck all the time. But in quaterfinals we are going to focus on defence again.
10.8. |
Do you like to bet on the game that is already in play? The betting office Bet365 has the biggest offer of live bets on the internet! Find out yourself.
The best informations about Bwin.comall in one place.
Enter the world of the quickly growing family of the company Bet-at-home and experience the joy of winning right from the comfort of your own house.
Rich offer of betting opportunities and attractive odds – that is DOXXbet.
18.7. | Closing ceremony
We have added some photos from the medal and closing ceremony.
17.7. | All Stars team
Michael Urbano (USA) - Julien Walker (SUI), Karel Rachunek (CZE), Travis Fudge (USA), Brian Baxter (MEX).
17.7. | Individual awards
MVP: Travis Fudge (USA), Best goalkeeper: Michael Urbano (USA), Best defender: Karel Rachunek (CZE), Best forward: Diego Schwarzenbach (SUI), Fair play award: Team Spain.
» Archive