CHN – CAN 0:11: Canadians earn their second victory
04.07.2010 | Lukáš Peroutka
Team Canada ensured their second victory of the tournament with a comfortable result against Chinese team and set up an enthralling tomorrow´s match-up with Czech Republic. Jackie Jarrell and Sasha Nanji both scored hattricks.
Game 2 • B • Su 4.7.2010 • 19:00 • Schedule and results
China
0:11
Canada
(0:6, 0:5, 0:0)
Wuo (Gao) - Qian, Lin, Yeo, Zhang, Li, Liang S., Ding, Mo, Liang Y.
Fisher (Squire) - Deveraux, Fisher, Grigg, Jarell, Ludolph, Merante, Nanji, Shirley, Sorbana, Clarke.
Goals and assists: 3. Nanji, 12. Jarell (Clark), 14. Jarell (Shirley), 15. Shirley (Jarell), 19. Jarell (Grigg), 20. Nanjiova, 24. Merante (Shirley), 24. Nanji (Shirley), 24. Clarkova (Nanji), 25. Sorbara (Jarell), 40. Clark.
Penalties: 3:0. PP goals: 0:0. SH goals: 0:0.
Referees: Arazimova, Kirschner.
Official game sheet (PDF) video
Report
Team China in its first ever outing in World Championship faced another tough opponent in their second group game in form of Team Canada. Chinese team put in a strong and spirited performance, much better than in their first game against Czech Republic and could even find their first ever goal when Zhang Heran was clean through in a breakaway, but could not beat Canadian goalie Squire.
The score was tight in the beginning with only Nanji getting on a scoreboard, but five goals in last eight minutes of the first half put the score after twenty minutes at 6-0. Jackie Jarrell scored a hatt-rick in just 19 minutes.
China held their opponents at bay in the beginning of second half, but floodgates opened at 23:03, when Merante scored first of four Canadian goals during next 94 seconds. Sasha Nanji completed her hatt-rick, as well, and Christina Sorbara beat the ten mark in the 25th minute. Other Canadian goals were scored by LaToya Clarke (2) and Samantha Shirley.
Team Canada will face Czech Republic in a battle for first group spot tomorrow, Chinese players will fight for their first goal against Team Finland.
Author: Lukáš Peroutka
Comments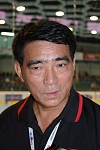 Jinxue Fu (Team China coach): We made a lot of changes after last game, tried to get more players into the game, make more shifts. We conceded ten goals, but it is still success for us. We managed to create a lot of chances against Team Canada, unfortunately we couldn´t score. We want to build on this performance tomorrow against Finland and try to cause an upset.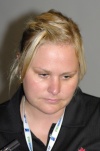 Donna Forbes (Team Canada head coach): So far, so good. We were actually really impressed with China, it´s their first tournament and they had chances against us and could even score. We are happy with the result and look forward to the tomorrow´s game against Czech Republic.
10.8. |
Do you like to bet on the game that is already in play? The betting office Bet365 has the biggest offer of live bets on the internet! Find out yourself.
The best informations about Bwin.comall in one place.
Enter the world of the quickly growing family of the company Bet-at-home and experience the joy of winning right from the comfort of your own house.
Rich offer of betting opportunities and attractive odds – that is DOXXbet.
18.7. | Closing ceremony
We have added some photos from the medal and closing ceremony.
17.7. | All Stars team
Michael Urbano (USA) - Julien Walker (SUI), Karel Rachunek (CZE), Travis Fudge (USA), Brian Baxter (MEX).
17.7. | Individual awards
MVP: Travis Fudge (USA), Best goalkeeper: Michael Urbano (USA), Best defender: Karel Rachunek (CZE), Best forward: Diego Schwarzenbach (SUI), Fair play award: Team Spain.
» Archive