CZE – CHN 13:0: Czechs roll over China
03.07.2010 | Lukáš Peroutka
In a completely one-sided game in a hot afternoon in Beroun, Team Czech Republic completely dominated the play and the score and beat Team China 13-0 to record its first win of the tournament.
Game 1 • B • Sa 3.7.2010 • 18:00 • Schedule and results
Czech Republic
13:0
China
(5:0, 8:0, 0:0)
Smardova (Mateju) – Fialova, Flachsova, Heindlova, Holesova, Knotkova, Melicherikova, Mrazova, Novakova, Pancakova, Polenska, Studentova, Stastna, Vonkova, Zelenkova.
Wuo (Gao)- Qian, Lin, Yeo, Zhang, Lio, Liang S., Ding, Mo, Liang Y.
Goals and assists: 5. Pancakova (Holesova), 11. Mrazova (Stastna), 11. Novakova (Zelenkova), 13. Mrazova (Stastna), 18. Holesova (Studentova), 21. Polenska (Studentova), 21. Mrazova (Flachsova), 24. Holesova (Melicherikova), 27. Mrazova (Stastna), 30. Mrazova (Polenska), 32. Novakova (Heindlova), 36. Mrazova (Polenska), 37. Fialova (Knotkova).
Penalties: 1:2. PP goals: 1:0. SH goals: 0:0.
Referees: Kirschner, Gloor.
Official game sheet (PDF) video
Report
Chinese team with its low numbers concentrated on defensive play and making the space in front of their own keeper as crowded as possible. For the first four minutes, good movement and a solid goalkeeping display held Czechs at bay, but the floodgates were about to open. Vera Pancakova scored the winning goal at 4:30 and three goals in 150 seconds in the middle of the first half earned Czech players a solid lead.
Team China had problems with their goalkeepers, making three substitutions during the game, but neither keeper could resist the flurry of Czech shots. Eight goals came past goal line in the second half, four of them from Katerina Mrazova – Czech player of the match scored six goals totally to help her team to a solid start. "When four players stand in front of goal in inline hockey, it is very difficult to play. There is no chance to open some space and you have to shoot," said Mrazova.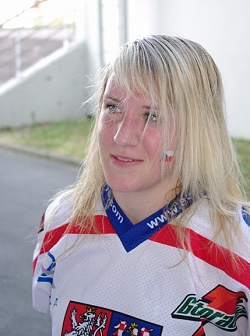 There was never any doubt about the result as Team China resigned to the attacking ambition and just tried to help its goalkeeper as much as possible. Ding Xiaolin was the only player to cross the red line several times in a game and she actually tested Czech keeper Smardova couple of times, but no more than that. The rest of Czech goals came from Novakova (2), Holesova (2), Pancakova, Polenska and Fialova.
Author: Lukáš Peroutka
Comments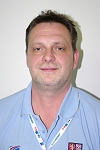 Roman Heindl (Team Czech Republic coach): It was our first game of the tournament, we were nervous and not everything was easy. But the players later scored some good goals. With our opponent sitting so deep and concentrating on defence, we were just trying to find an opening. It is much more difficult to score with four players.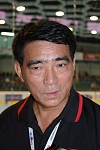 Jinxue Fu (Team China coach): "It was an unlucky start in championship for us in confrontation with our powers and abilities. Some girls were nervous but most of them has already experiences with tournaments, so nervosity wasn´t the reason of our defeat. We have to analyse all game, find our mistakes and make a new plan to be successful."
10.8. |
Do you like to bet on the game that is already in play? The betting office Bet365 has the biggest offer of live bets on the internet! Find out yourself.
The best informations about Bwin.comall in one place.
Enter the world of the quickly growing family of the company Bet-at-home and experience the joy of winning right from the comfort of your own house.
Rich offer of betting opportunities and attractive odds – that is DOXXbet.
18.7. | Closing ceremony
We have added some photos from the medal and closing ceremony.
17.7. | All Stars team
Michael Urbano (USA) - Julien Walker (SUI), Karel Rachunek (CZE), Travis Fudge (USA), Brian Baxter (MEX).
17.7. | Individual awards
MVP: Travis Fudge (USA), Best goalkeeper: Michael Urbano (USA), Best defender: Karel Rachunek (CZE), Best forward: Diego Schwarzenbach (SUI), Fair play award: Team Spain.
» Archive