CAN-FIN 7:2: Team Canada won easily an opener
03.07.2010 | David Schlegel
In the opening game of the World Women`s In-line championship Team Canada outplayed Finland and proved they are strong candidates for a medal. Canadiens won 7:2, the Finnish opponents put up a resistance just until the start of the 2nd half.
Game 1 • B • Sa 3.7.2010 • 13:30 • Schedule and results
Canada
7:2
Finland
(4:2, 3:0, 0:0)
Fisher - Deveraux, Fisher, Grigg, Jarell, Ludolph, Merante, Nanji, Shirley, Sorbana, Clarke
Vanhatalo - Tuominen, Ahvensalmi, Makela, Jokipelto, Lind, Tuira, Heiskanen, Kantee, Koivisto
Goals and assists: 2. Grigg (Ludolph), 2. Jokipelt, 7. Ludolph, 16. Jarrell, 16. Ludolph, 19. Tuominen (Jokipelt), 27. Jarrell (Shirley), 27. Grigg (Ludolph), 32. Jarrell.
Penalties: 3:0. PP goals: 0:0. SH goals: 1:0.
Referees: Gloor, Ruzickova.
Official game sheet (PDF) video
Report
Right from beginning Canada clearly showed their quality and Grigg gained the lead. However, Team Finland scored an equalizer from a breakaway by Jokipelto. Canadiens were still a better team and expressed it through three goals scored by Ludoplh, Jarell and again Ludolph. Finland fought hard and Tuominen took a nice shot near the right post and cut the lead.
"Canadiens played very well and what was important they managed to score goals. That is what decided the game," said Minttu Tuominen, who scored two goals for Finland. Along with Emmi Jokipelto they meant the biggest danger for Canadian team.
Team Canada started 2nd half with a lot enthusiasm. Jarell scored a lucky 5th goal for Team Canada and Finland had no response, especially when 15 seconds later Grigg added another goal. The final score was completed when Jarrel scored a shorthanded goal after a quick turnaround. Team Canada dominated the rest of the game and thoroughly deserved their victory. "We played really well, actually. It is really hot in here, much hotter than in Canada, but we had a good game and I hope to play a lot better in the next game, for sure," said Brooke Ludolph of Team Canada.
Comments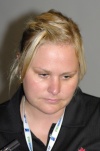 Donna Forbes (Team Canada head coach): We played well, it wasn`t our best game, that`s for sure, but we are going to build on that. We came here just yesterday, so some girls were maybe suffering from jetlag. Each year, every team is getting stronger so we don`t expect to dominate, we expect they will score against us and we will be down. I just told the girls not to be concerned and play our game.
Vera Mäkälä (assistant coach of Team Finland): It was our first game. Canada is always good, we had to play good defense and score when we can. The turning point was when the score was 2:4 and then we allowed three easy goals. Our goal is to be in the top four, that would be great. We must concentrate on tomorrow`s game against the Czech Republic, but it will not be an easy game.
10.8. |
Do you like to bet on the game that is already in play? The betting office Bet365 has the biggest offer of live bets on the internet! Find out yourself.
The best informations about Bwin.comall in one place.
Enter the world of the quickly growing family of the company Bet-at-home and experience the joy of winning right from the comfort of your own house.
Rich offer of betting opportunities and attractive odds – that is DOXXbet.
18.7. | Closing ceremony
We have added some photos from the medal and closing ceremony.
17.7. | All Stars team
Michael Urbano (USA) - Julien Walker (SUI), Karel Rachunek (CZE), Travis Fudge (USA), Brian Baxter (MEX).
17.7. | Individual awards
MVP: Travis Fudge (USA), Best goalkeeper: Michael Urbano (USA), Best defender: Karel Rachunek (CZE), Best forward: Diego Schwarzenbach (SUI), Fair play award: Team Spain.
» Archive