Venezuelan coach charmed by Prague, had to curb down optimism of his players
20.7.2010 | Michal Slavik, Lukas Peroutka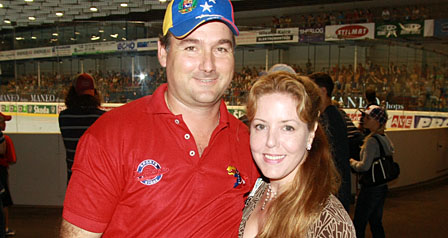 This team lost all their games at this year´s In-Line Championships, but was visibly enjoying the event and temperatures even higher than in their homeland could not surprise them. We talked about life and sport in a country of Hugo Chavez with coach Alejandro Valentiner, who was accompanied by his wife Olga here in the Czech Republic, looking after their son and youngest player on the team, Harald.
Please, tell me something about in-line hockey in your country. Is there any regular league?
We do not have many teams, just around nine. There are circa 500 people playing this sport. Every four months, these teams meet and play the national championship. It is important to keep in touch with good American teams, so we try to play them at least once a year, but more is better.
Which sports are most popular in Venezuela?
Definitely baseball, basketball and tennis. Soccer has been growing in popularity recently, too. I would name in-line at the very last place (laughs). It really is a minority sport. However, we have managed to include in-line in one of sports schools, children are going to play it in early age in many categories, so we hope to make our players base bigger.
Do people in Venezuela know about you representing the country here in the Czech Republic?
People will find out if they want to. There are some news about us in Meridiano magazine, which is focused on news from various sports. There were articles about this tournament.
You train your own son in this national team. What about him and in-line hockey?
Harald currently lives in Saskatchewan, Canada, studying Anthon Murray of Notre Dame high school focused on ice hockey. He is there since September, so this was his first season on ice. He was playing in-line hockey before. Usually it works the other way, but he can gain a lot of experience in Canada. For example, father of one of his friends and classmates plays in the NHL.
Do you think Harald can play ice hockey as a professional?
He is 16 and was the youngest players in the national team on a World Championship in Düsseldorf. But even he is not sure whether he wants to be a professional player. His goal at the moment is to play for the university team. He has got two years left at high school and I think he has got what it takes to play for that team.
Are there any other ice hockey players in your team?
No, we do not, because there is just one Venezuelan city with ice hockey arena and ice hockey team. It is more of a leisure center than ice hockey arena, people come there to skate and it is a big attraction.
No wonder, climate in your country is not really good for ice hockey...
Yes, it is really hot. But we do not have temperatures over 30 degrees like here in Czech Republic during this tournament. In Caracas it is around 25 degrees whole year. Actually it is always summer, but we distinguish dry and rain period. There is no air conditioning here in our hotel, so our windows are open throughout the day and we had to buy some fans. But I don´t want to complain, the organization was great. It is our third time in World Championship and the team agreed that it has been the best here in Beroun.
How did you become coach of the national team?
I used to play in-line hockey and played as a goalkeeper in Düsseldorf. By then, we had a coach from Spain, he was replaced by a Canadian coach. This year, the federation decided it should be someone from Venezuela and approached me. I am too old for goalkeeping so I am learning to be a coach. Although I have played almost every sport, I have never done coaching before.
How do you like your job, then?
I am enjoying it. I like to be involved. Watching guys improving year by year is a great feeling. There is obviously a lot of work ahead. Now we have to prepare ourselves well for the next championship, where we would like to win at least one game.
What do you have to do for that to happen? What is the biggest weakness of Venezuelan in-line?
We have to work on many things. The biggest difference I have noticed is that most of other teams are able to play with their sticks without looking at them. Our players keep repeating the same mistake; their heads are down when they skate and they look at the puck. If you don´t see your opponent, it is difficult to come up with a strategy to outplay him.
Your wife is on the bench, too. Do you travel to tournaments together?
It is the first time when Olga arrived and it is especially because of our son (laughs). Furthermore, the Czech Republic and Prague are places worth a visit. We gave up some money so she could come. But I am not sure if she is going to come ever again, because she is very nervous during games. Although in-line is a non-contact game, you cannot avoid physical contact. She was very worried about Harald and is happy that the tournament is over.
Does your government pay the expenses, or did you have to contribute, as Australians did?
Some of our players had to sacrifice a lot to come. Government paid for out flight tickets, but we pay the hotel, food and all other expenses. Every player had to contribute. But as far as I know, our situation is pretty good. Probably the only team who did not have to pay anything is Team USA. On the other hand, Swiss players had to pay absolutely everything.
What is the sport support in your country like? Government of Hugo Chavez is viewed as controversial here in Europe...
Our government certainly has its mistakes, but I have to say it puts quite a lot of money into sport. Especially in youth programs, which is a very good thing. These funds help children move from streets where they meet drugs onto sports pitches and rinks.
Are Venezuelans a lot different from Czechs?
I could name a lot of differences, positive and negative. Mentality is very different. Life of a South American is a one big party, everyone is very positive. Life over here is simply different. You do not have to agree your visit, you just come and will be treated well everywhere. I think it has a lot to do with wars, there have been many in Europe, while we have had none for more than 100 years. Defending your country from invasion of another country is a thing that puts its mark on many generations. Czech people are more reserved and do not let anyone get close. Even you can notice the difference... just compare the way players give interviews after they lose the game. We lost all games and guys were always positive, enjoying the tournament. Even I was surprised sometimes. I told them: ´Guys, we lost the game, we should be more downbeat and concentrate on the next game.´ They told me not to be worried and that we shall play better next time. Our nation is simply positive no matter what happens.
What did you like the most on your visit to the Czech Republic?
I must say you have got the most beautiful city in the world. I have been to many places – Hamburg, München, Berlin and Frankfurt in Germany, I have studied in Switzerland, know Italy well... but Prague is really the most beautiful. Most players want to stay here for at least another three days to see Prague better.
Thank you and good luck in next tournaments!
On Sportingbet you can bet without any handling charge 24 hours a day.
10.8. |
Do you like to bet on the game that is already in play? The betting office Bet365 has the biggest offer of live bets on the internet! Find out yourself.
The best informations about Bwin.comall in one place.
Enter the world of the quickly growing family of the company Bet-at-home and experience the joy of winning right from the comfort of your own house.
Rich offer of betting opportunities and attractive odds – that is DOXXbet.
18.7. | Closing ceremony
We have added some photos from the medal and closing ceremony.
17.7. | All Stars team
Michael Urbano (USA) - Julien Walker (SUI), Karel Rachunek (CZE), Travis Fudge (USA), Brian Baxter (MEX).
17.7. | Individual awards
MVP: Travis Fudge (USA), Best goalkeeper: Michael Urbano (USA), Best defender: Karel Rachunek (CZE), Best forward: Diego Schwarzenbach (SUI), Fair play award: Team Spain.
» Archive