It is very hot in the costume, I don´t need sea-holidays, laughs mascot Ondra
16.7.2010 | Filip Lefenda, Lucie Muzikova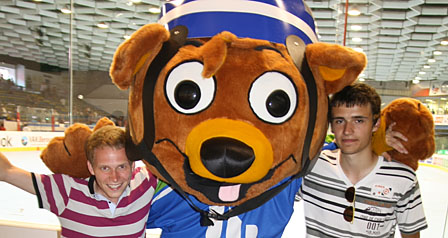 During Czech games he is for all to see. People takes the remarkable tall and net mascot, wearing hockey jersey who has on his back name "Beorunek" (a diminutive for host town Beroun) as one of symbols of this tournament. The 17-year-old boy Ondra is hiding under the mask in reality who´s, by the way, big passion is playing poker. And how he says, he enjoys being the mascot.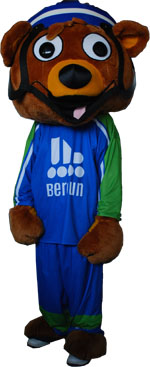 Ondra, firstly, tell us how have you become the mascot of this tournament?
I got this job from one company which is responsible for marketing in this championship. One of their employees is friend of my father. Because I have no job now, I can say that father give me this job.
Do you enjoy it?
Definetely I do. But the conditions for work are not good because it is really hot in the costume. Otherwise it is really fun. I speak topeople, laugh a lot, do some crazy things. It is really good job.
Have you been practising for this tournament?
Absolutelly not. I didn´t expect this. I only got the costume. I thought that somebody gave me at least 5 minutes (laugh), but there is always very short time for everything. They just told me "go and do crazy things".
Do you do the mascot only during Czech games?
I do. Now, I am here only for these games. For quarter-, semi- finals and of cource for final game I be here for every game.
This week is really, really hot. How is it in the large costume? It has to be horrible...
It is tropical. I don´t have to pay for holidays near sea, it is perfect (laugh). If you are cold, I´ll lend you my costume and you will fell great.
Do you wash it yourself?
I don´t. (laugh) The costume is really sweaty. Always when I come, it is one big water. I think that I can´t dress it for finals. (laugh)
Do you mind if somebody wants a photo with you?
I don´t, conversely. I think that I am there for it. Or it is one of reasons, the main is of course advertisements. That is why they pay me.
Do you have time to watch the tournament as a fan, or concentrate yourself for your job?
I have to watch Czech games but I perceive them like the mascot. On the other hand, it´s true, that if I was not the mascot, I would watch them on TV.
And what about some interesting story?
Nothing special yet. If I don´t count falls, because I have a lot of them. But that´s not a story. (laugh)
10.8. |
Do you like to bet on the game that is already in play? The betting office Bet365 has the biggest offer of live bets on the internet! Find out yourself.
The best informations about Bwin.comall in one place.
Enter the world of the quickly growing family of the company Bet-at-home and experience the joy of winning right from the comfort of your own house.
Rich offer of betting opportunities and attractive odds – that is DOXXbet.
18.7. | Closing ceremony
We have added some photos from the medal and closing ceremony.
17.7. | All Stars team
Michael Urbano (USA) - Julien Walker (SUI), Karel Rachunek (CZE), Travis Fudge (USA), Brian Baxter (MEX).
17.7. | Individual awards
MVP: Travis Fudge (USA), Best goalkeeper: Michael Urbano (USA), Best defender: Karel Rachunek (CZE), Best forward: Diego Schwarzenbach (SUI), Fair play award: Team Spain.
» Archive