I started playing on a street, says Rob Shelton
16.7.2010 | Lukas Peroutka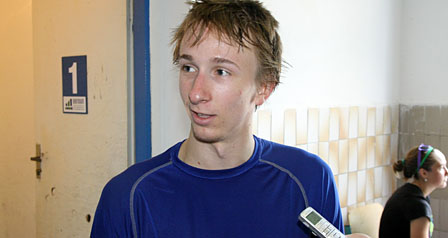 Team Great Britain experiences a bit of a roller coaster ride on this year´s World In-Line Championship. After winning their first two Group C matches, Brits were on a right track for promotion. However, two following losses against Mexico and Argentina condemned them to a World Cup play offs. In a country respected as a home of football, in-line hockey is played mainly on community level. "It is impossible to play in-line as a professional in UK," says scoring leader of Team GB Rob Shelton.
In-line hockey might be considered as something in between amateur and professional sport. In some countries, players start their careers very early and move on to earn some good money only by playing in-line hockey. "I started playing when I was 9 years old," says Shelton. "I was playing on the streets first, then joined the local league and I have been playing ever since. But is is not possible to play as a professional in the United Kingdom. If you want to do it professional, you would probably have to move to France or Spain."
Shelton is one of the youngest players on the British team, but already in this age he helps his team with many goals and assists. There is still a lot to come for this young player. "I have just finished college before I came here. I am not really doing anything at the moment as I am in between school and work." As in-line hockey is really similar in stick work, movement and rules to other hockey games, notably ice hockey, many players do both sports, especially in countries, where ice hockey has a great tradition, such as Czech Republic or Canada. In Great Britain, though, situation is a bit different. "Since the very start I just play in-line hockey," confirms Shelton.
British association of in-line hockey can be quite proud of the number of players who enjoy this sport in their country. Certain places offer more opportunities than others. "In-line hockey is quite popular in UK. Football is definitely the most popular sport in the country, then cricket. In-line is not really that good in comparison with these sports, but there is a pretty large community, although it is very sectional. There are some really strong southern bases, but you know that there is really not much going on in between them."
One thing that sounds particularly impressive is the number of various teams and organizations taking part in hockey competitions. "There are quite a few teams in the UK, I think we have around 200 teams. Not all of them play in a local league, some are just community clubs who play at certain events in their community, but there are some big club bases in lower leagues," describes Rob Shelton.
As well as small local club and community games, there are some competitions organized on national level. "There are actually three regular leagues in the country, one of them is a ball hockey league," hints Shelton at a sport quite similar to in-line hockey and played especially in a summer, as well. United Kingdom can provide its in-line players with some good facilities, as well. "We play in in-line rinks, it is actually much smaller than this one. I have two rinks very close to my home, one is about five minutes away and the second about fifteen minutes away from where I live. It is quite good," says Shelton.
10.8. |
Do you like to bet on the game that is already in play? The betting office Bet365 has the biggest offer of live bets on the internet! Find out yourself.
The best informations about Bwin.comall in one place.
Enter the world of the quickly growing family of the company Bet-at-home and experience the joy of winning right from the comfort of your own house.
Rich offer of betting opportunities and attractive odds – that is DOXXbet.
18.7. | Closing ceremony
We have added some photos from the medal and closing ceremony.
17.7. | All Stars team
Michael Urbano (USA) - Julien Walker (SUI), Karel Rachunek (CZE), Travis Fudge (USA), Brian Baxter (MEX).
17.7. | Individual awards
MVP: Travis Fudge (USA), Best goalkeeper: Michael Urbano (USA), Best defender: Karel Rachunek (CZE), Best forward: Diego Schwarzenbach (SUI), Fair play award: Team Spain.
» Archive