Fantastic, amazing, great. Team USA loves gold medals
17.7.2010 | Lucie Muzikova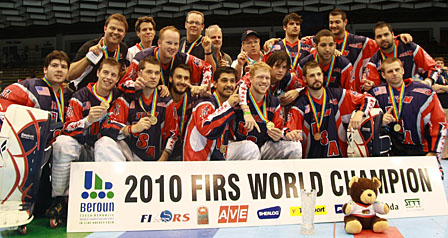 That was like a journey from a fairytale. Problems at the beginning, but at the end sweet reward. In in-line hockey dictionary it means win the gold after an amazing game. And the final game really was stunning. But the winner takes it all. Team USA is celebrating, Team Switzerland feels miserable themselves. Let´s see what world championships say after the game.
3,2,1,... Everybody from Team USA was counting the seconds to the gold. Finally, the last second was over and all players coudl start celebrate the another big victory of American in-line hockey. "I am really proud what we made here," coach Charles Thuss doesn´t hide his feelings after the game. Neither his players, Travis Fudge just sat on a bar and he stars: "It is really great. We have expected that after Czech game we would have 0 fans but people were great and the atmosphere too," he says thanks to the audience.
If the score 6-1 for Team USA looks very impressive, Michael Urbano showed a big respect of them. " Team Switzerland played really good, they had a fast and big team. We came out, played our game and we controlled the puck and that was the way I started to believe after the 3rd goal," He was of key players of the team. He stopped a lot of Swiss opportunities, sometimes he had also a big luck. "It was my job and job of my team to not let the puck go to the net. When the goal post was ringing, my hearth allways stopped but after that I was really happy that it wasn´t a goal," laughs the star of American net.
Team USA didn´t have an easy work to win this tournament. The biggest problems came in group, when they lost the game with Team France 1-2. "It was a wake up moment for us and I think that it came in right time that we lost the game. We played after that only our game," continues Urbano.
But world champions had also big troubles with Team Italy in quarter-finals. They lost the 1s half 0-1 and they had to worked it out. Theay did it but after the victory 2-1 there wasn´t so good mood. " We have changed some lines. After that we were together like team, we have a great force. During the week, we were better and better," notes with satisfaction coach Thuss. The second most productive player Fudge agrees. "We have time to practise together and we made a great work. We built a strong team and the connection between players worked., continues a proud member od All Stars Team.
Michael Urbano also was awarded. He was chosen as another member of All Stars and he also got the award for best goalkeeper. "It is fantastic and after the gold... It is an amazing feeling," says happily.
Team USA celebrated very calmly the world´s gold. Everybody was expecting the great show but it was really quietly. "It´s the thing that people in United States are expecting big things and we just made it. I have to tell you, that we are very pround of what we have done," explains coach Thuss. "We are a really young team, some players don´t know what it is yet. This is my 4th tournament and I know that after ome time, they will realize what we made. It was the same with me," adds Fudge from players point of view.
Players of Team USA was really enjoying the stay in and for all of them Urbano says: "I loved it here, the tournament was perfect. I was in some tournaments before and I have to say that I really want to come back."
See the best betting bonuses of bet-at-home for Polish fans at Zakłady bukmacherskie.
10.8. |
Do you like to bet on the game that is already in play? The betting office Bet365 has the biggest offer of live bets on the internet! Find out yourself.
The best informations about Bwin.comall in one place.
Enter the world of the quickly growing family of the company Bet-at-home and experience the joy of winning right from the comfort of your own house.
Rich offer of betting opportunities and attractive odds – that is DOXXbet.
18.7. | Closing ceremony
We have added some photos from the medal and closing ceremony.
17.7. | All Stars team
Michael Urbano (USA) - Julien Walker (SUI), Karel Rachunek (CZE), Travis Fudge (USA), Brian Baxter (MEX).
17.7. | Individual awards
MVP: Travis Fudge (USA), Best goalkeeper: Michael Urbano (USA), Best defender: Karel Rachunek (CZE), Best forward: Diego Schwarzenbach (SUI), Fair play award: Team Spain.
» Archive